One of only 49 Cabriolet A examples of the fuel injected 300Sc with restoration completed to show quality standards in 2017. Mercedes-Benz' most collectible and important post war grand touring model
$1,025,000
Matching numbers. Chassis no. 188.013.5500007. Engine no. 199.980.5500008. Special order vehicle. One of 49 cabriolets. Restored in original colors of DB 423 Dunkeltabakbraun (Tobacco Brown) with Natural Leather. Tobacco Brown soft top. Equipped with three piece fitted luggage set. Bosch Headlights. Becker Mexico Radio. Automatic Antenna. Original Books, Tools. 175 hp (DIN). 2,996 cc OHC inline six-cylinder engine. Bosch mechanical fuel injection. Four-speed manual transmission. Independent front suspension with tube shocks & coil springs. Single-pivot rear swing axle with tube shocks & coil springs. Four-wheel hydraulic drum brakes.
62,042 miles.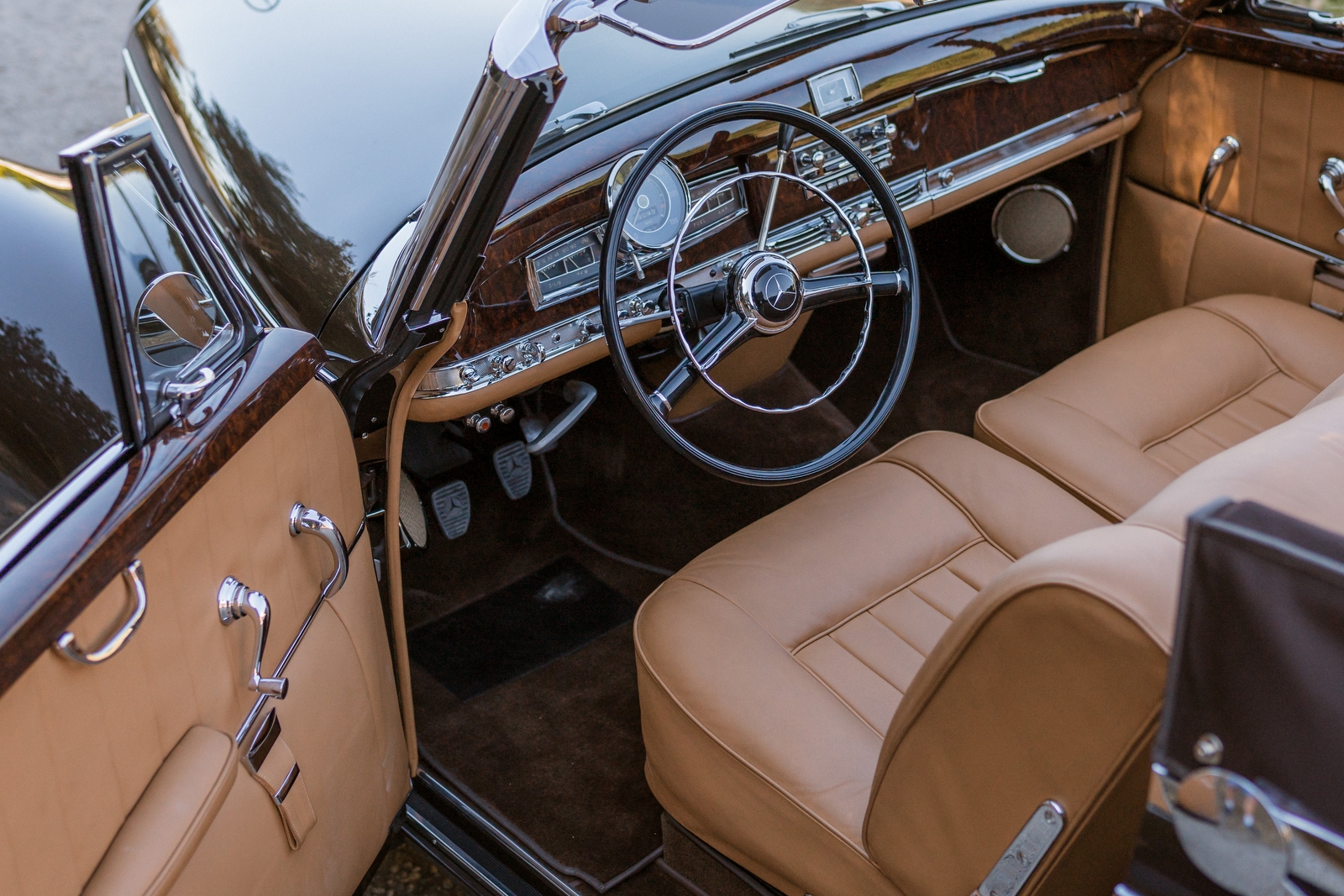 From 1955 to April of 1958, 98 Coupes, 49 Cabriolet A's and 53 Roadsters were made of the 300Sc and all were done through special order. As the most expensive cars in the Mercedes-Benz catalogue, the 300Sc was seen as the world elites most elegant way to travel. Produced only in the last two years of Sc Production, the Cabriolet, with its landau bar accentuated top and ample extra is the rarest by production count of the W188 chassis Mercedes line. As a product of legendary body designer Hermann Ahrens, the 300Sc was designed with a stately, tall Mercedes-Benz grille adorned at the top by the three-pointed star. It incorporated elegant fenders with chrome rings around the U.S.-specification headlamps, proportions to emphasize the long hood and short tail, and running boards concealed under the doors.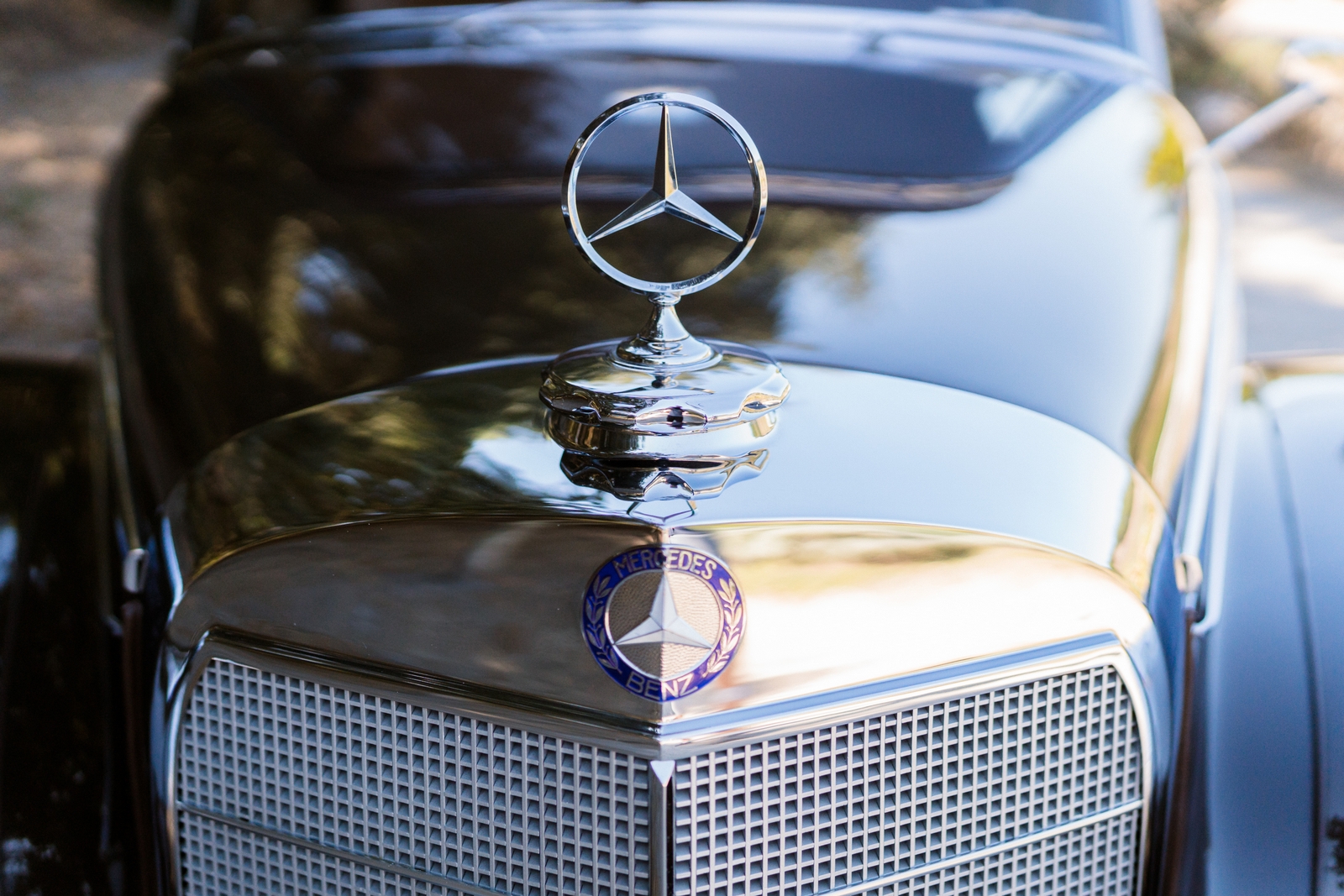 The W188 chassis 300Sc is evocative of the best of past Ahrens designs such as the 540k and a tribute to the pre-war days past. Each example was built to order by hand, all panels carefully fitted, with edges leaded in as needed to minimize and even out panel gaps. Chrome trim was carefully fitted to each body and then removed to be chromed before being installed back on the body. On the interior, wood veneer in the grain and finish specified by the owner would be cut in book-matched symmetric grain patterns before being fitted for an utterly luxurious driving experience. With graceful and elegant bodies, soft-tops for traveling in expected weather that is tucked neatly under metal tonneau covers, and upgraded engines with Bosch mechanical fuel injection adapted directly from the 300 SL open racecars, the 300Sc Roadster takes its place in post war Mercedes lore alongside the 300SL as Mercedes' most collectible of models.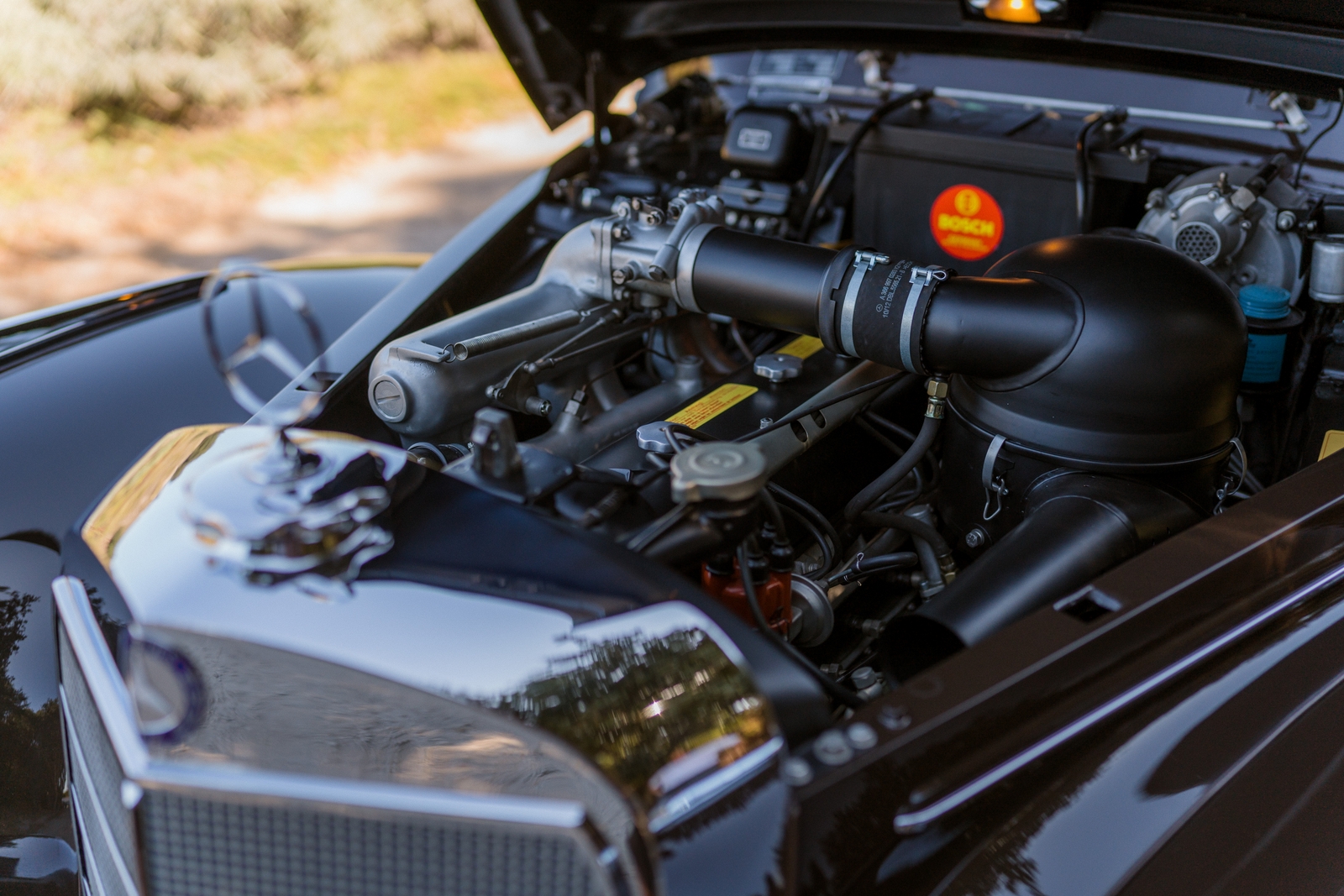 This 300Sc Cabriolet
This very early 300Sc Cabriolet left the factory headed for New York, USA as a special order vehicle on January 19th, 1956. The car left Germany dressed in Dunkeltabakbraun paint with Natural leather interior and is one of the very earliest of the 49 total 300Sc Cabriolet examples made. A Mr. Gary Peddle of Calgary, Canada purchased this 300 Sc cabriolet in 2007 from its prior long term owner, a Mr. Helmut Horst Mauer of Saint Louis Park, Minnesota. Documentation that accompanies the car suggests Mauer owned the car as early as the mid 1980's and perhaps long prior. Mr. Peddle, having enjoyed a nice driver quality experience with the 300Sc after purchasing it, decided in 2012 to have it comprehensively restored by our longtime colleague, friend and highly respected Mercedes-Benz specialist Rudi Koniczek over the course of 4 years (late 2012 to 2017). The result of the restoration speaks for itself and invites in person inspection, a car fit for the show-field and well sorted for the drive.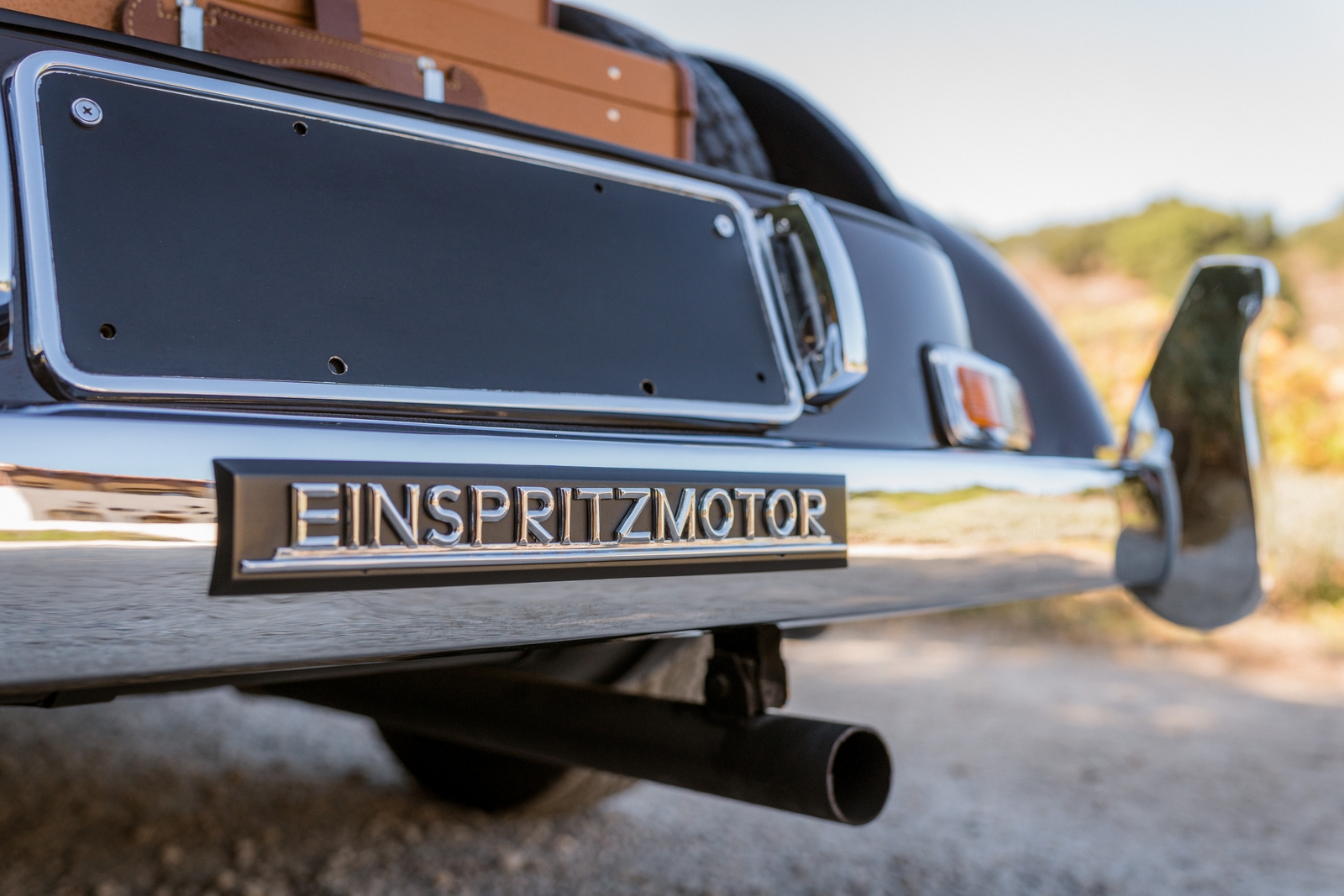 During Rudi's restoration of this very early 300Sc Cabriolet, all cosmetics were done completed including the body, paint, chrome, upholstery, and burl wood accented interior along with all mechanical components being sorted and attended to as required. Rudi Koniczek has spent the last 50 years restoring numerous examples of the world's great Mercedes' out of his shop in British Columbia and is widely known as one of the most knowledgeable experts for German classic restoration. This 300Sc was one of the last restorations he personally oversaw and is a testament to the quality of work he has performed over the past 5 decades.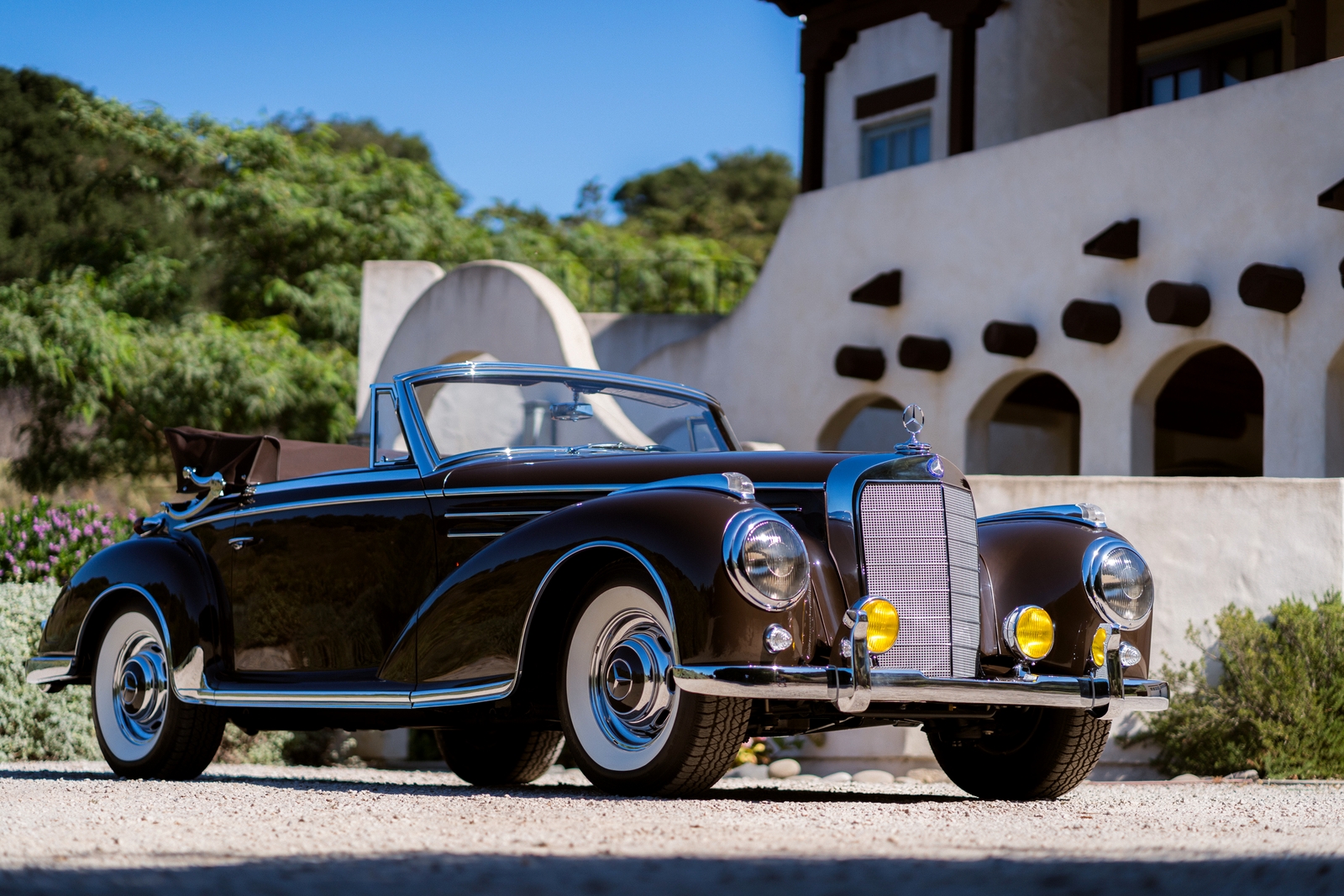 This particular 300Sc has been restored back to its original colors of Tobacco Brown with natural leather interior, burl wood dash and a brown top, a very appropriately understated color combination for such a stately car. Its engine runs strong, leading to a very well-performing car. Importantly, it retains its original stampings throughout as well as original tags. The Mercedes-Benz 300 Sc is exceptionally expensive to restore, and it is rare to find an example in such high quality cosmetic and mechanical condition. This early-production 300 Sc cabriolet is an example of one of Mercedes-Benz's rarest models and is ready for its next owner to enjoy on the show or the drive.
$1,025,000