This largely original long term single ownership from new 280SL "Pagoda" is one of the most well documented examples of the W113 Mercedes line you're likely to find anywhere. Comes well dressed in its original colors of dark green over cognac MB tex and is ready for show or driving enjoyment
Sold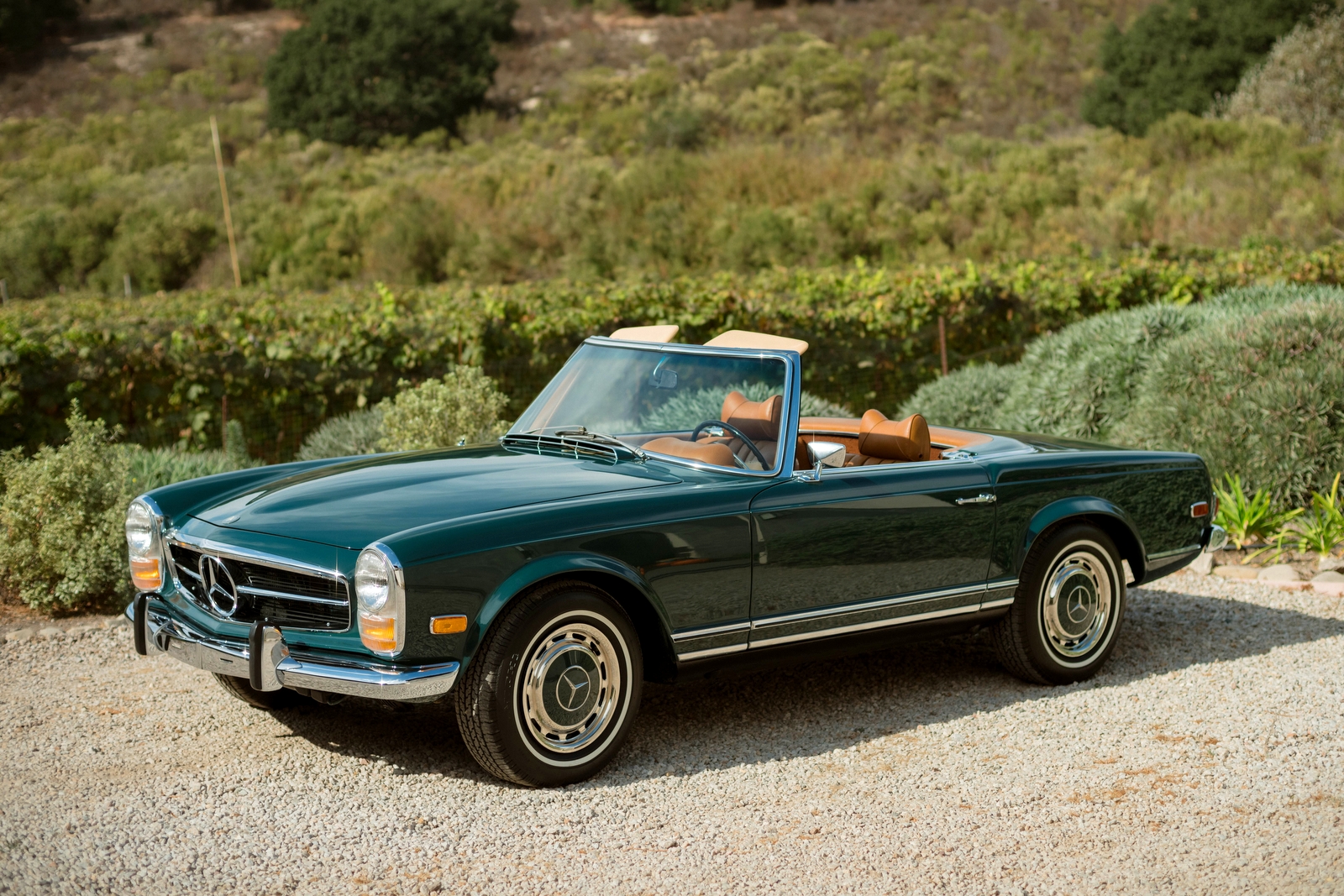 Matching Numbers. Chassis 11304412009643. Engine 13098312005851. 76,481 Miles. Two private owners from new. 268 Dark Green w/ 140 Cognac MB Tex. Hard and Soft Top. 2.9 Ltr M130 Engine. Automatic Transmission. Comprehensive service records from new. Original Mercedes Collection Luggage. Original sales invoice. Copy of factory data card. Original Books, Tools, Jack and Spare.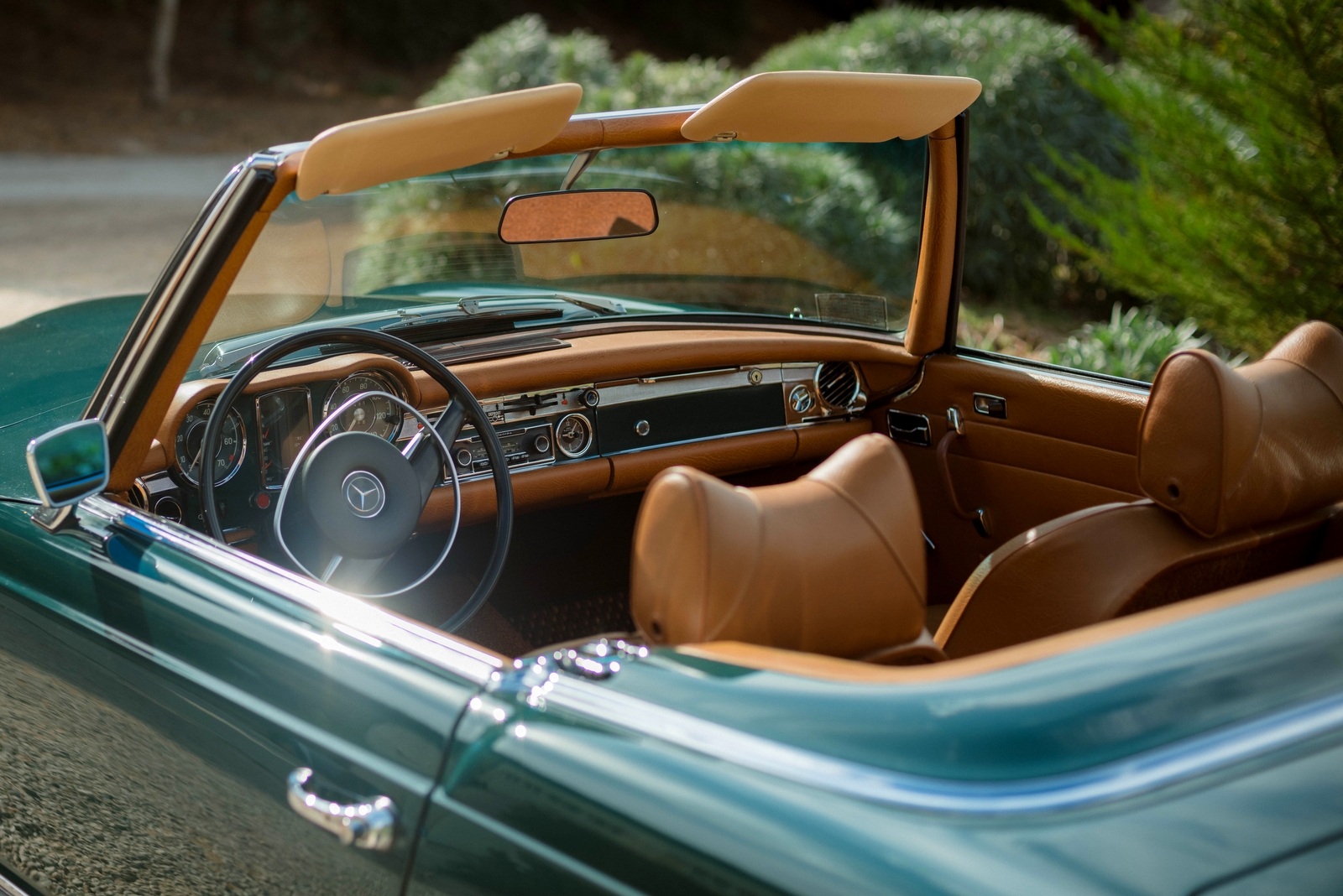 Provenance
From new, this wonderful driving and very original 1969 280SL Mercedes is one of the most well cared for cars you are likely to find. As documented by the original sales invoice included in the history file that accompanies the car, this Pagoda was purchased new by Charles T. Davis in Coltsneck, New Jersey on August 25th, 1969. The car was well optioned and in the beautiful color combination of dark green over cognac MB Tex. Immediately after purchase in New Jersey, as evidenced in the history file, the car was taken by Davis to California where it would spend its entire life under Davis' ownership. Over the years, Mr. Davis would keep impressively detailed maintenance records, conveying expert Mercedes mechanical service attention,with the only major aspect of cosmetic work done on the car being a light repaint in the original dark green to freshen things back to a "like-new" appearance. In 2015, the car would pass from Mr. Davis to a well known collector in the American Southwest known for his enjoyment and ownership of his own long term collection of one owner Mercedes. It would be a noticeable understatement to suggest this car has received anything but the most attentive and thorough programs of care from new.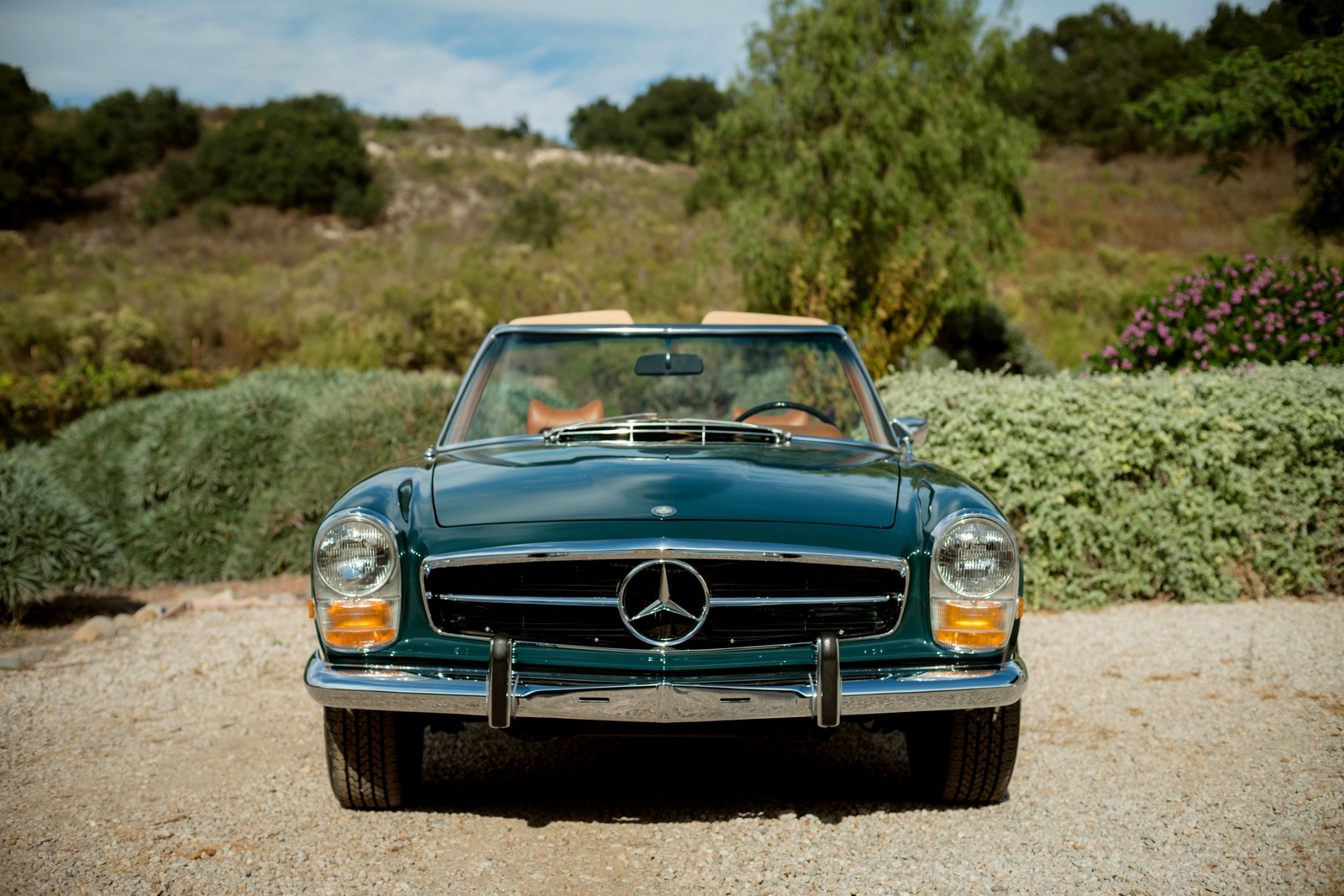 The Car Today
This 280SL Coupe/Roadster presents as authentically and as well as one could hope for in the unique colors it left the factory with. Aside from the one light repaint, which was done very well, the car is cosmetically in a superb original condition. The paint, chrome and interior of the car are impressively well kept and visually stunning in concert with each other, a combination of color conveyed well in photos but best taken in first hand.
The engine bay is essentially untouched outside of normal servicing and minor part replacement with an obvious lifetime of enthusiast care having been part of the cosmetic regimen. The mechanics of the car match the visual appeal in every way, a testament to the well documented service attention it has received from the day it was purchased. Though purchased on the east coast of the United States and clearly cared for while there, it has spent nearly all of its life in California, further buoyed by the presence of the very original and exceptionally clean undercarriage of the car.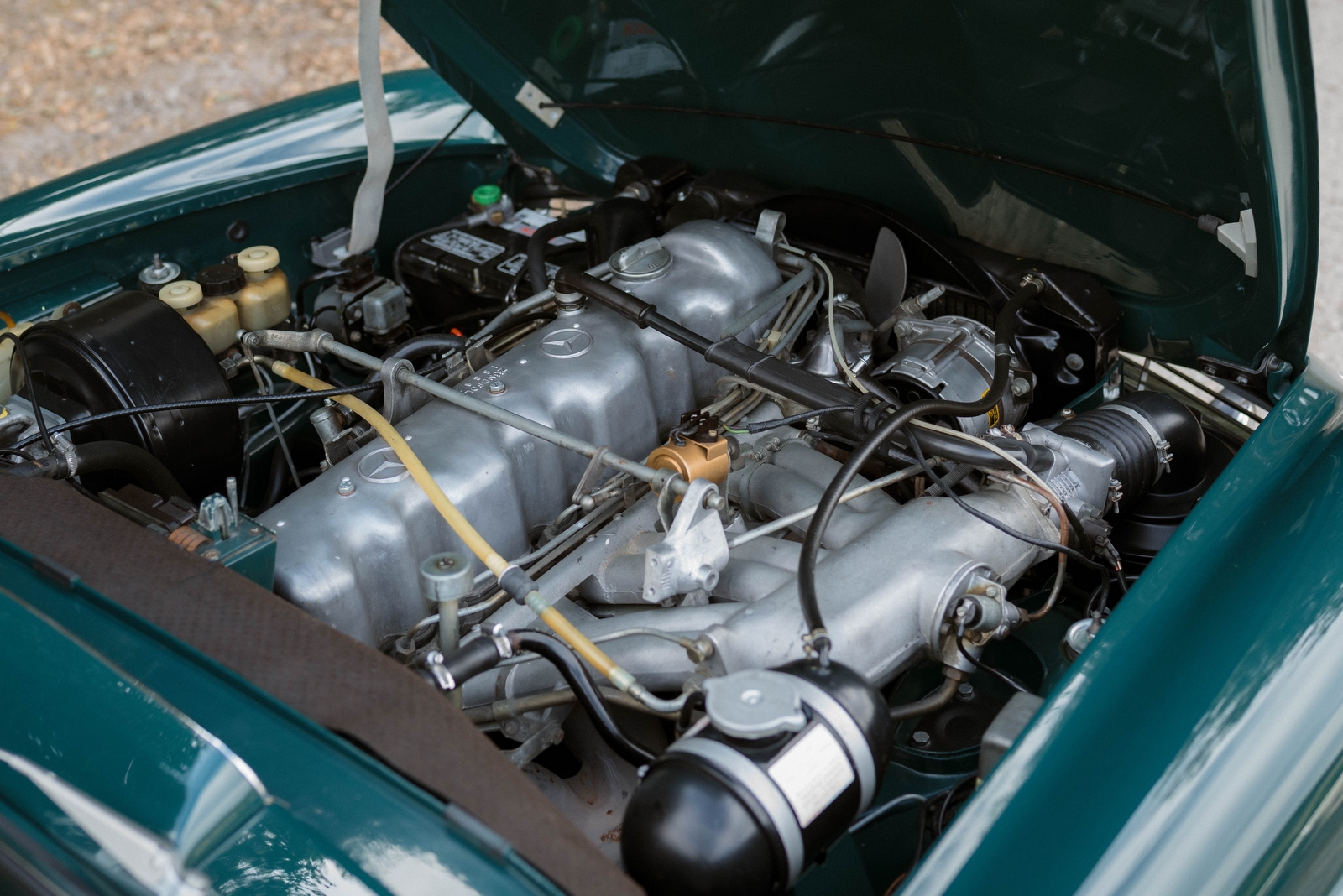 As far as the 113 Mercedes line of cars is concerned, this car truly is the genuine article. Dressed in its original and relatively rare colors of dark green over cognac MB tex and having benefited from a lifetime of the most meticulous of Mercedes collector ownership care, this 280SL Pagoda is ready for new driving adventures and comes with exhaustive service records, original purchase invoice, original Mercedes Collection luggage, copy of data card and all original books and tools. Rarely does such a drive-able classic of any variety come through to today in such a remarkable worry free and well cared for condition as is seen in this very special Pagoda.
Sold