One of only 644 US Delivered Examples. A pristine, lifetime California example of Porsche's revered street legal supercar. Zero paintwork, comprehensive service records and genuine long term single owner/driver enthusiast ownership from new.
$675,000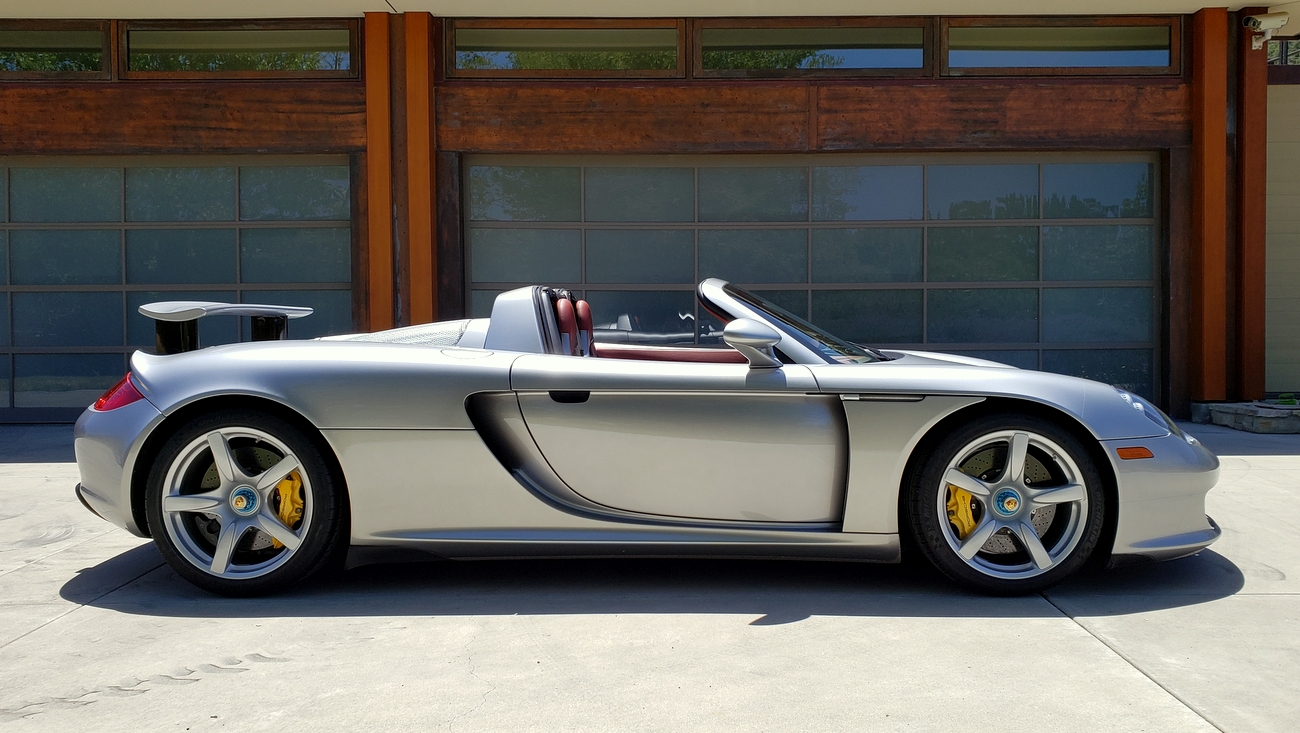 0704 Carrera GT
This incredibly well cared for one owner Carrera GT was ordered all the way back in November of 2000 from Carlsen Porsche and Audi of Redwood City, California, making it's one and only owner a very early contracted future buyer 4 years in advance of availability. In addition to being the only owner and driver of this Carrera, the owner went to Leipzig, Germany in late October of 2003 for the test driving of the just completed production car…a trip captured in photos that accompany the car.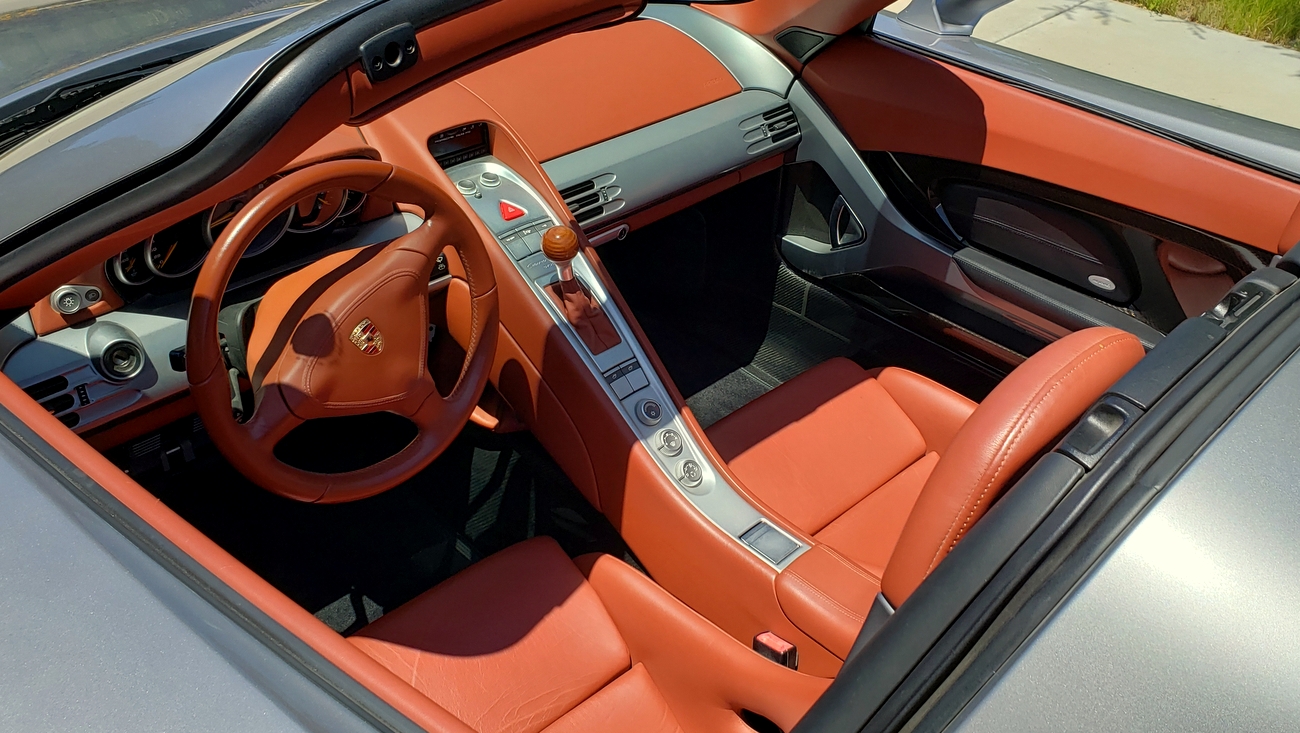 Since new, the car has been shipped to and from Carlsen Porsche and Santa Barbara Auto Group for regimented servicing as documented by extensive receipts that accompany the car. Receipts available on request. As a prevention measure, the car has had a plastic bra on it since delivery which has prevented any paint chipping in the front. It is hard to imagine an example of this revered modern Porsche arriving in 2019 after any amount of time on the road in a finer original condition and with zero paint work to speak of.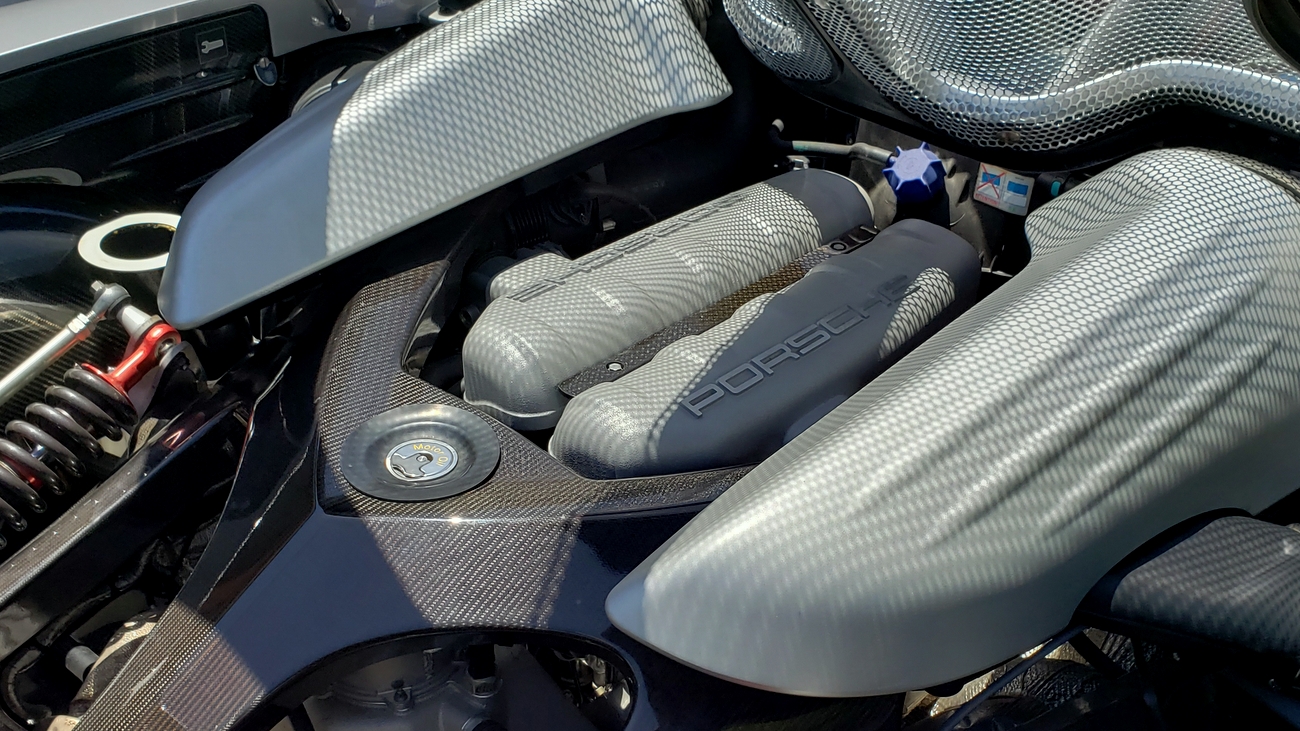 Having traveled 16,089 at the behest of the most enthusiast of caretakers, the car remains not only mechanically exceptional but also in a truly mint condition cosmetically. We encourage interested parties to DOWNLOAD VIDEO walk-arounds or schedule an appointment to see the car in person at our Arroyo Grande facility.
In iconic GT Silver Metallic with Leather Terracotta interior, this exceptional 2005 Porsche Carrera GT is ready for use on the open road and new driving adventures.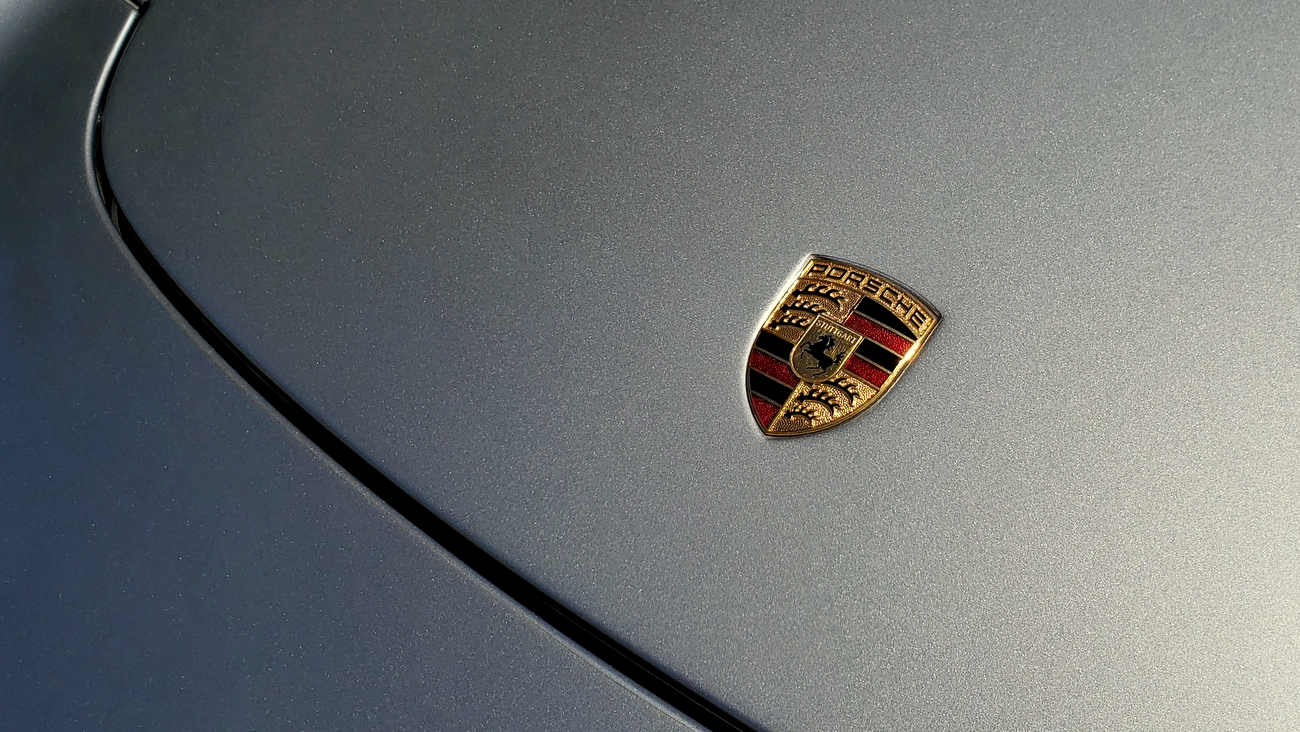 THE PORSCHE CARRERA GT
One of the most evocative model designations in motoring history, 'Carrera' has been accompanying Porsches since the German manufacturer's triumph in the 1954 Carrera Panamericana in Mexico. When Porsche decided to combine 'GT' with 'Carrera' in 2004, a return to its competition roots through a new flagship supercar recalling looks those of the original Type 550 of 50-plus years ago was launched. Following Porsche's Le Mans win with the 911 GT1 in 1998, the programme to develop a front-ranking supercar had begun and became known as 'Project Code 80'.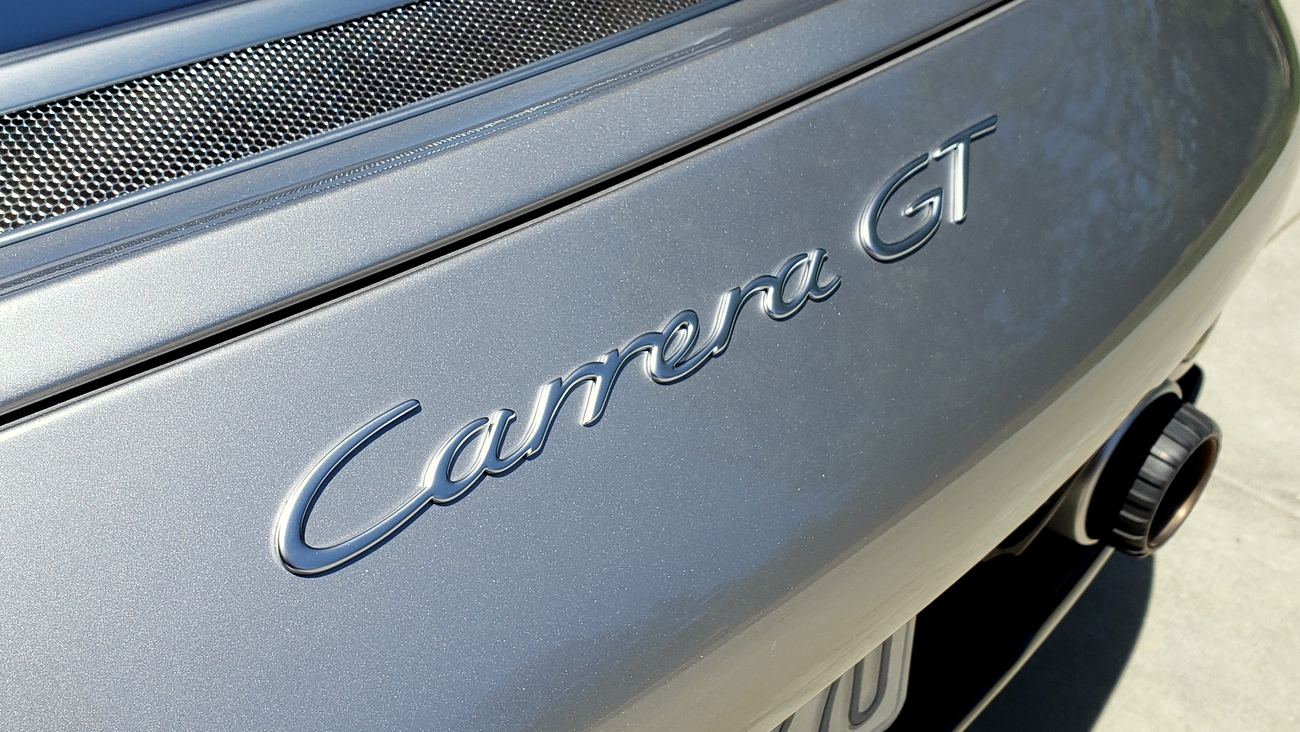 The first notion that Porsche was planning something very special was inferred when a concept car by US designer Grant Larson appeared on the Stuttgart manufacturer's stand at the Paris Motor Show in 2000. The overwhelmingly favorable reception it received gave Porsche the green light to begin development of a version of the concept suited for production.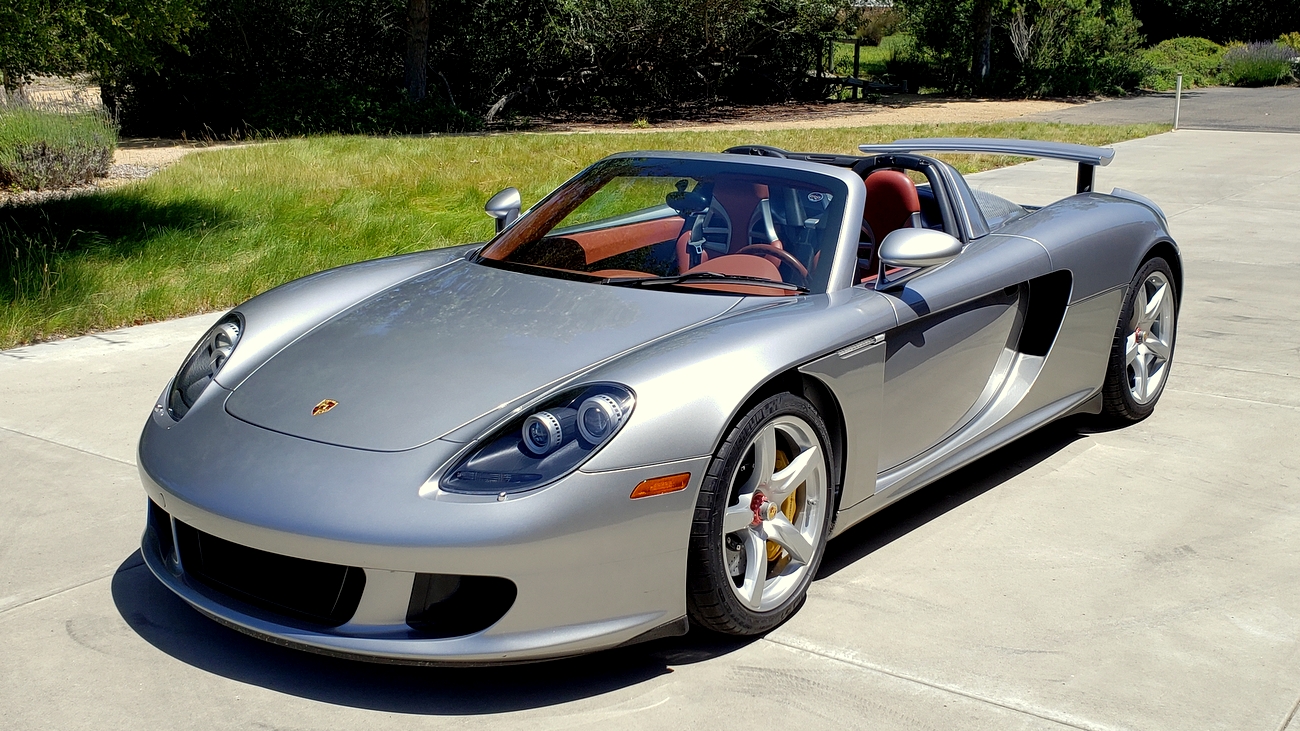 It would have been all to easy to stick with the tried and true flat-six engine design of the 911 and Boxster, which Porsche had done in development of the 959, but the new model needed to be significantly different in order to achieve the manufacturers desired impact. Fortunately there was a suitable power unit in hand: a 5.5-litre four-cam V10 developed a few years prior for a Le Mans racer to be that never was. The latter had incorporated a carbon-fiber monocoque, as had the GT1, and this state-of-the-art method of construction was carried over to the Carrera GT, though in this instance in a form that met the requirements of a road car. Porsche's engineering brass gave themselves an additional set of problems to solve by extending the use of this material to the engine support structure. The development of a small-diameter, multi-plate clutch composed of ceramic materials enabled the V10 engine to be mounted low in the chassis, resulting in a lower center of gravity than would not have been possible with a 911 or Boxter-esque flat six. Before production commenced the V10 would be sized up to 5.7 liters, producing its maximum of 612bhp at 8,000rpm, with the only transmission available to them, a six-speed manual.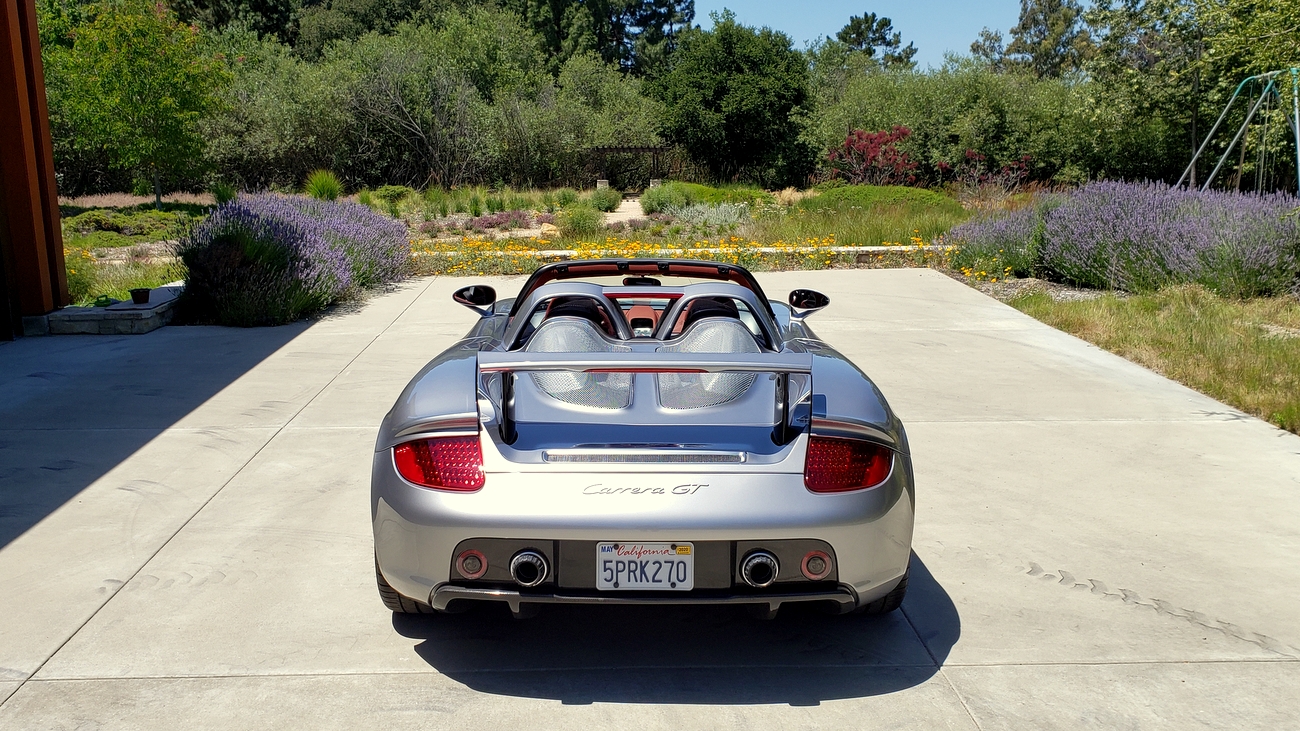 Clearly, a car of such importance to the company would have to project perfect road manners in the face of a race car persona, and to ensure such perfection the German outfit employed racing driver Walter Röhrl to add knowledge depth to the development, which included countless go-rounds of the Nürburgring circuit. In the interests of high-speed stability the rear body incorporates a wing that is raised automatically at speed (around 75mph), and retracts when the speed drops again (around 50mph). More than a mere gimmick, it was a necessary incorporated function for a car capable of exceeding 200mph.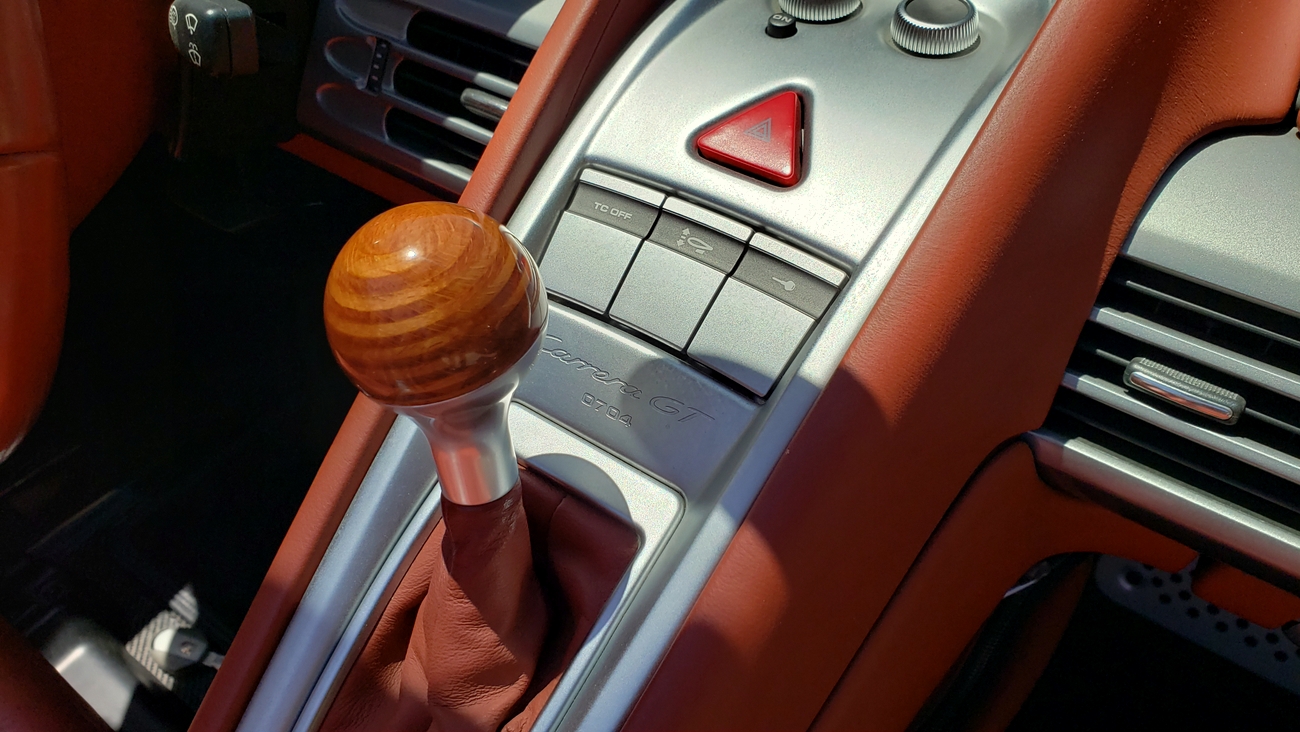 The Carrera GT's suspension is to the core, the epitome of competition-car, featuring unequal-length control arms all round with horizontally mounted gas shock absorbers that are operated using pushrods and rockers. The brakes too are products of the racetrack, consisting of six-piston aluminum calipers gripping 15″ diameter ceramic composite discs that are more heat resistant and 50% lighter than cast-iron equivalents. More weight was saved through the use of forged magnesium wheels (19″ front, 20″ rear) with ABS as standard equipment and of course power assistance for the steering.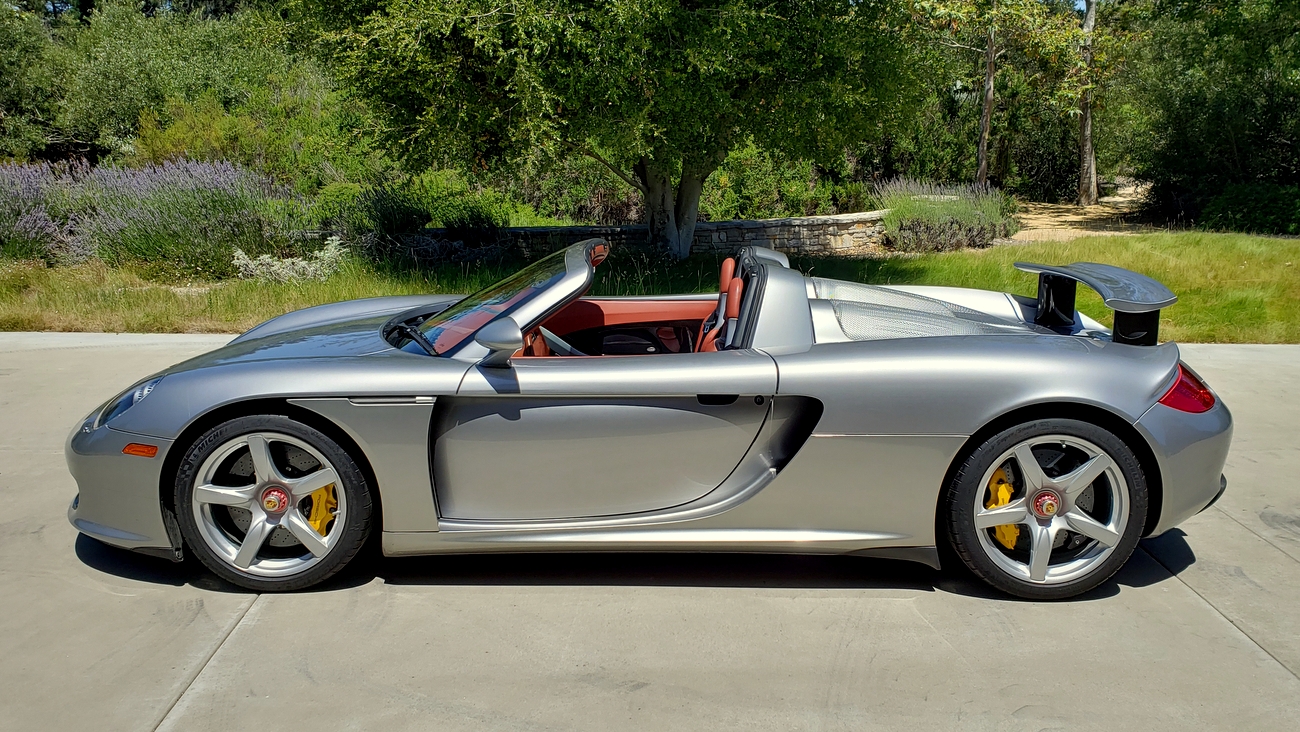 From a cosmetic standpoint the Carrera GT looked remarkably similar to the 2000 Paris Show car when it went on sale in 2004, yet was subtly different in countless ways. One more obvious difference was the GT's roof, a feature not seen on the open prototype, which was made of two pieces that could be removed and stored in the front luggage compartment. Inside, the seats were made of leather-trimmed carbon fiber while the gear lever knob was made of wood, an homage of traditional material to the legendary Porsche 917 endurance racer.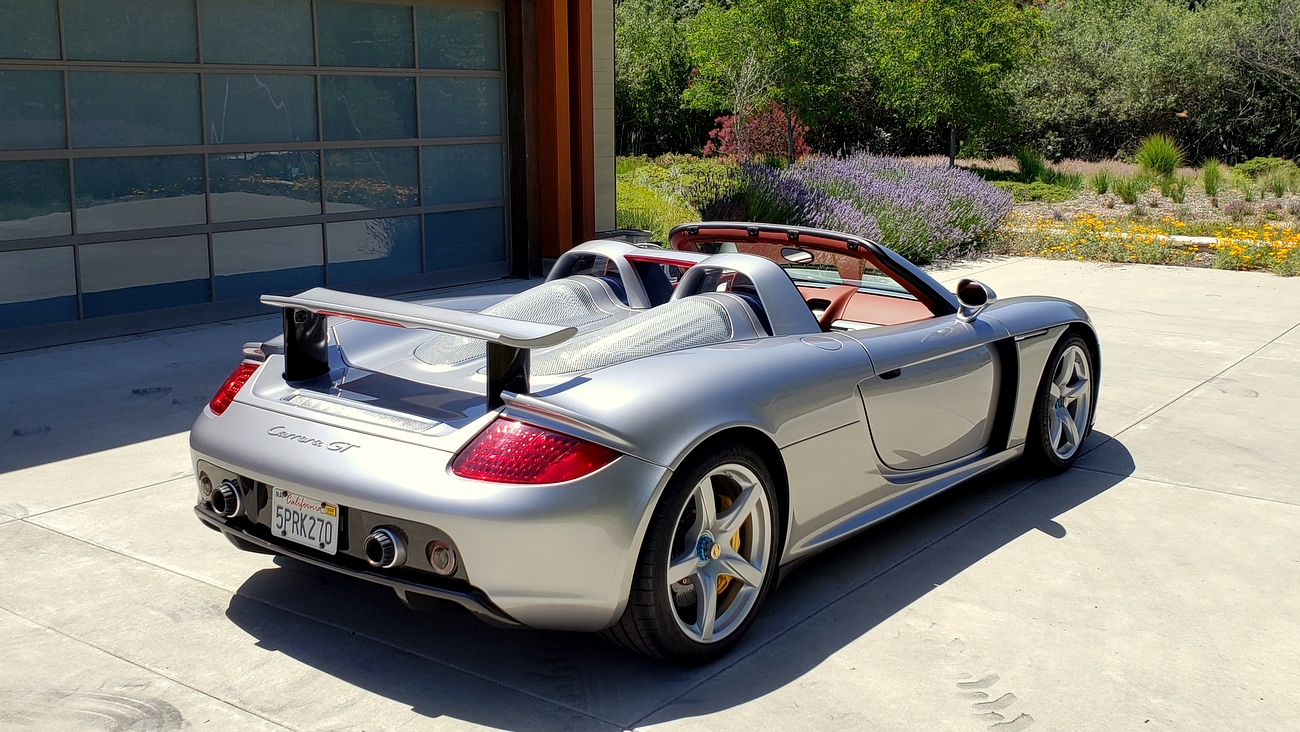 As the most modern of supercars, the GT made it clear it was no longer sufficient to simply deliver the pinnacle of on-the-road performance…it also demands the very latest in in-car mobile telecommunications technology. The Carrera GT project engineers did not skimp in this respect, equipping it with 'Porsche Online Pro' satellite navigation which incorporated a Bose sound system, hands-free 'phone, and email, along with Internet connectivity. A five-piece luggage set was included in the specification at no extra cost, though, perhaps surprisingly, air conditioning was an optional 'extra' .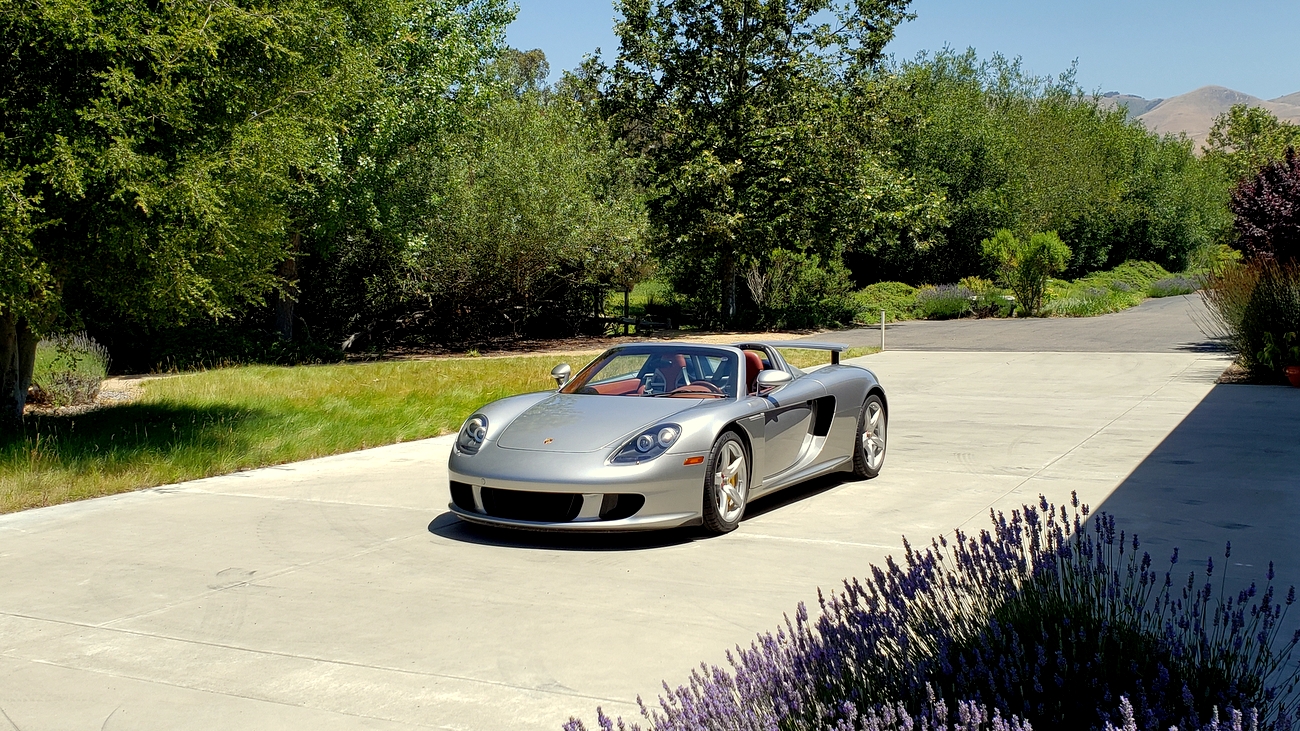 Porsche stated that only 1,500 Carrera GTs would be made, thereby emphasizing the car's exclusivity, and each example carries a numbered plaque on the center console (the factory retained 'No.1' for its museum). When Car & Driver tested a production Carrera GT, the respected American motoring magazine recorded a 0-100km/h time of 3.5 seconds with 160km/h arriving only 3.3 seconds later. The Carrera GT would turn out to be even more exclusive than its maker had originally intended, for when production ceased in 2007 only 1,207 had been completed.
All ownership records, photos, video and service records are available upon request.
$675,000