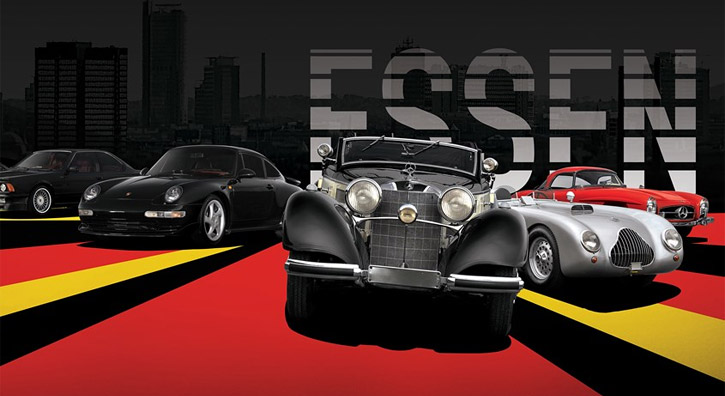 RM Sotheby's Inaugural Techno Classica Essen Auction has come off with some very notable takeaways and marks another milestone for the auction circuit. It seems, to bang away at the remarkably obvious point, that the calendar is showing no signs of slowing down with only a set number of possible venues standing in the way of what seems might be an auction of note weekly. At least that's how it feels!
On the results front, it can't be said there were a mass of certifiably shocking happenings. The total haul of 18.7M Euros was impressive given the average value of the cars on offer and the sell through rate was buoyed in part because of the amount of no reserve lots run across the block. The high sale was a lovely 1937 Mercedes-Benz 540k Cabriolet A which hit for 2.225M Euros including fees. Of particular interest to us and I think the market as a whole, the more modern collectibles on the relatively lower end of the monetary value scale continued to show strong results with further value markings engraved a bit deeper into stone.
As the infinitely drivable 80's and 90's modern classics come to market in further droves at auction, what will likely become more apparent is that while production numbers were high on some of these fantastic cars, the fact they were easily accessible as daily drivers means the ones that remain in pristine, low mileage condition, will be rare and desirable from a collectibility standpoint. After all, does it really matter if 30,000 or 100,000 examples of a car were made if only 3 – 5% of those today existing today are in exceptional condition, the rest having been driven into the ground?
It appears quite clear that with the injection of RM's featured "Youngtimer Collection", a whole new set of benchmarks is being set to establish solid and truly data driven price points for the 80's and 90's era classics that seem to have really staked a claim in the collector car marketplace proper. RM is helping expand the market in both scope of cars recognized (appropriately so) as collectible and amount of opportunities to by across the globe.
CLICK HERE FOR FULL AUCTION RESULTS
CLICK HERE FOR RM's OFFICIAL RECAP
---
---
---
---
---
---
---
---
---
Scott Grundfor Company has a wealth of experience and expertise in all facets of the classic car market, specializing in high-end collectibles and vintage Mercedes-Benz 300SL Gullwings and Roadsters.
Read about our Classic Car Collection Consultation Services or Contact Us for personalized expert advice.