This time capsule W113 Mercedes-Benz, with original paint and interior, is a testament to the power of preservation. The unmistakable, yet subtle patina of this 280SL is a case study in show quality preservation
Sold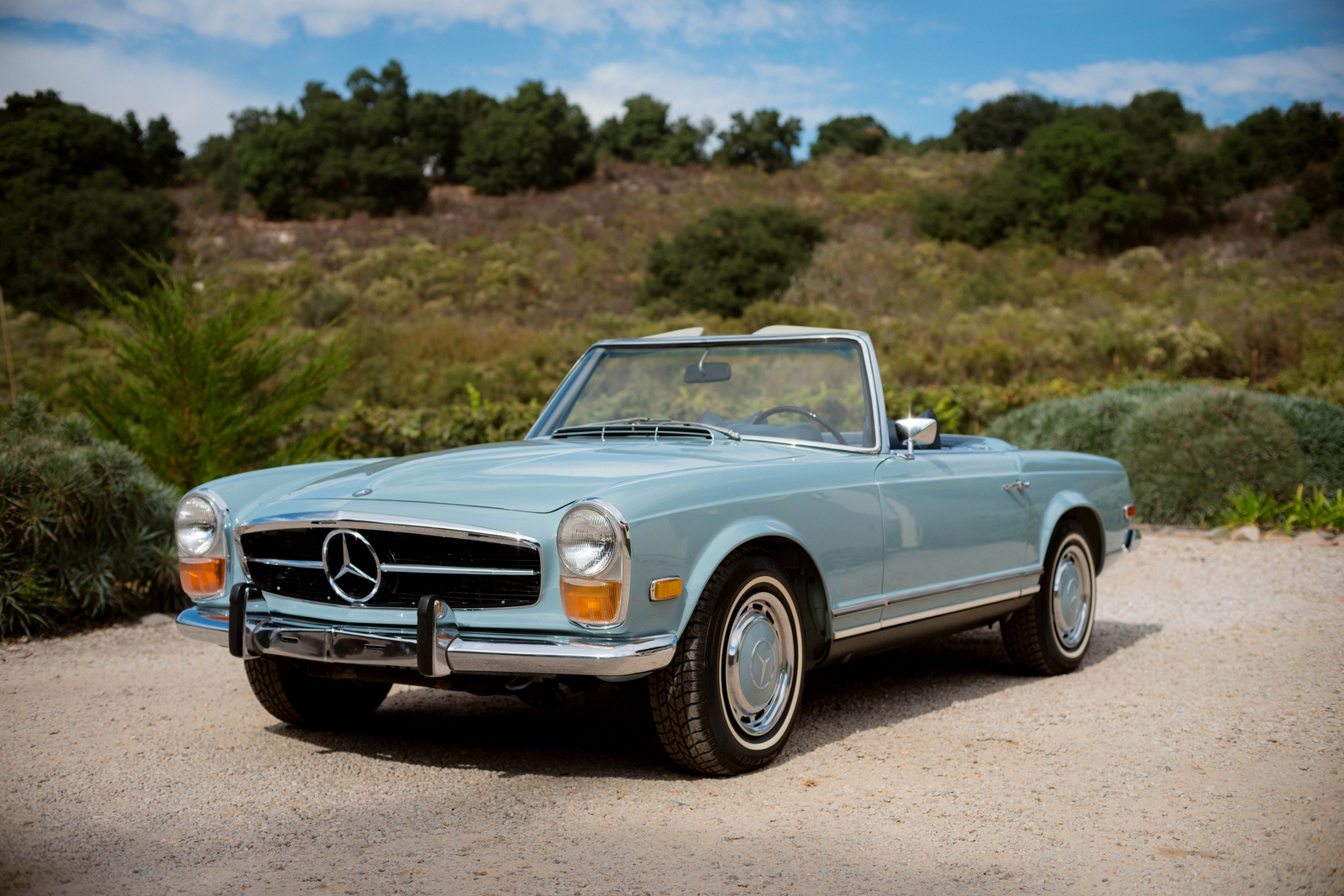 Matching Numbers. Chassis 11304412016917. Engine 13098312011081. 52,680 Miles. Long term private collector owned original example. 304 horizon blue original paint w/ 135 blue MB tex. Hard top and soft top (dark blue). Original dark blue carpeting. 2.9 Ltr M130 engine. Automatic transmission. Becker Europe radio. Frigiking A/C. Original California blue plate car. Original factory data card. All original books, tools, jack and spare wheel and tire.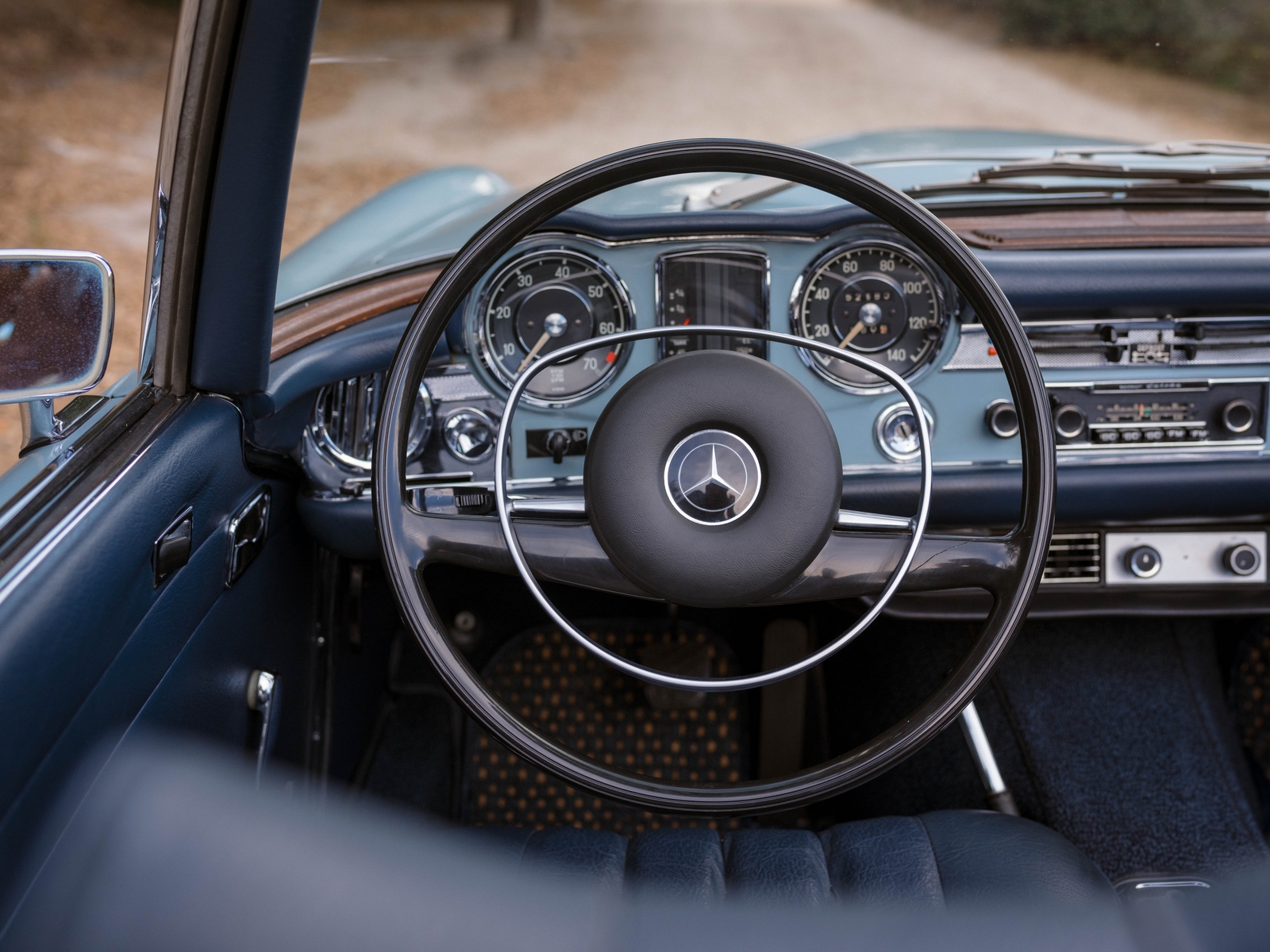 A Lifetime Of Care In Horizon Blue
This spectacular original 1970 280SL was bought new at Mercedes-Benz of Hollywood and has lived the vast majority of its life in sunny California. Under its California ownership history, which spanned nearly 42 years, the car was kept in a throughly sheltered environment as attested to by its current over-the-top originality and the condition thereof. From 1970 on, the car would remain in California, enjoying minimal but regular use and garaged storage during periods of inactivity.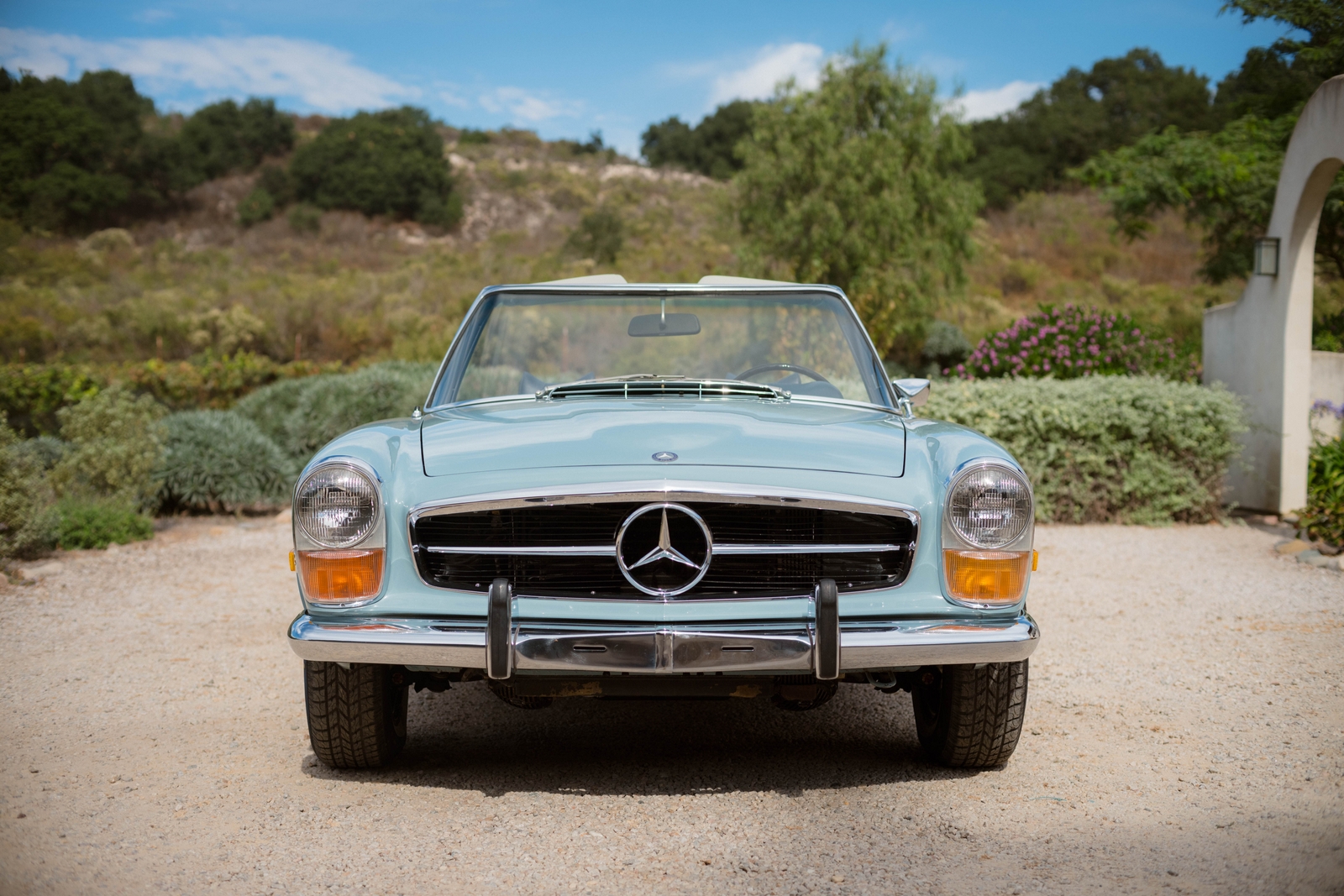 In February of 2005, with 50,000 miles recorded on the odometer, the car was noticed and purchased by a lifelong Mercedes enthusiast in the American Southwest who valued the uncorrupted original state of the car combined with the previous long term ownership history and dedicated care it had clearly received. When purchased, though in unusually well kept original condition, the new owner had his specialist Mercedes mechanics refresh anything mechanical in nature that might yield a driving experience to match its visual appeal, all of which is documented thoroughly in the ownership file that accompanies the car. Of note, new subframe and engine mounts were installed and all maintenance required for optimal operating condition was performed.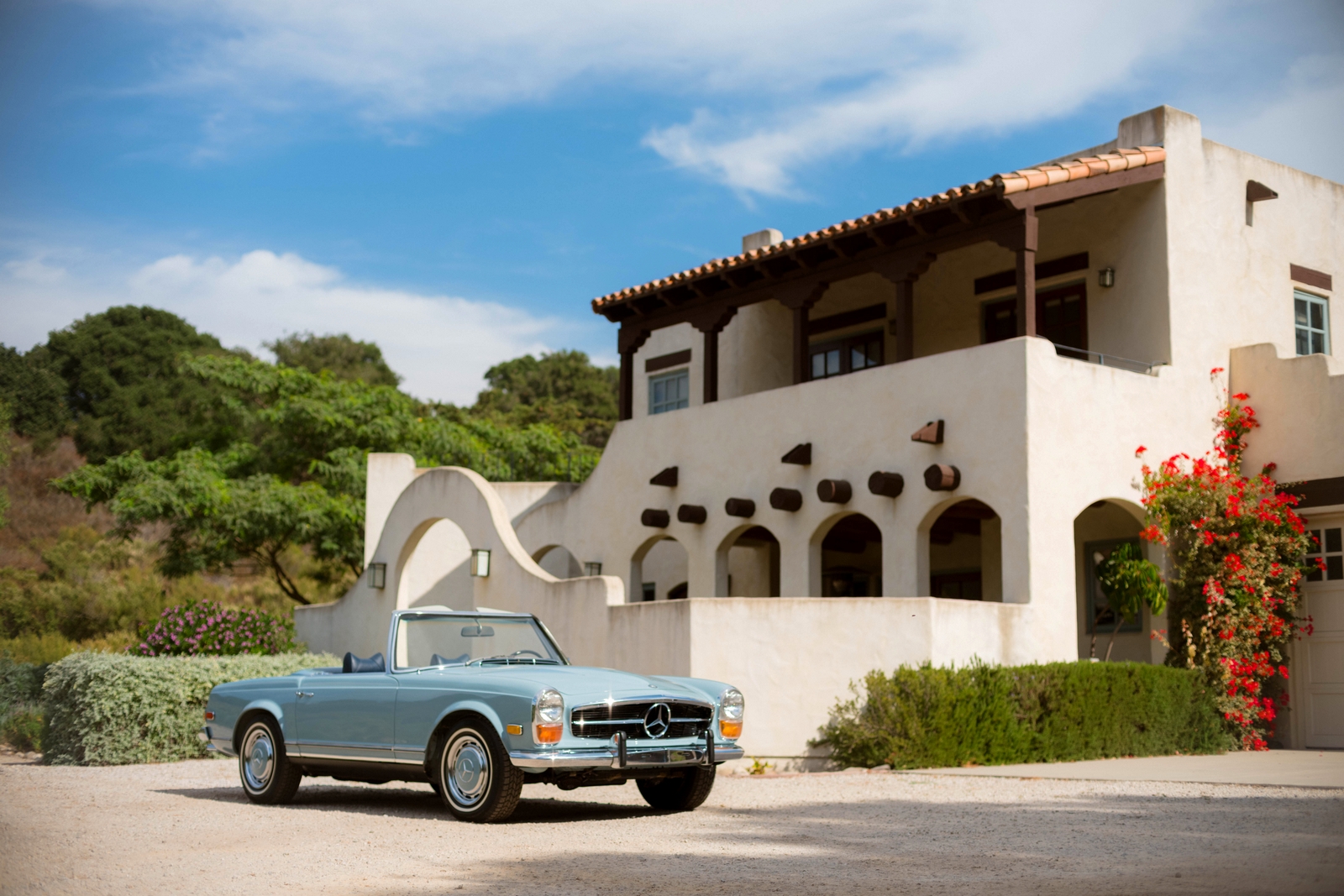 Rarely does an automobile arrive in the present with such clear indications of care on the original surfaces. The 304 Horizon Blue paint presents itself wonderfully with sparse, minor imperfections that have been attended to and touched up for an overall appearance of appropriate yet subtle patina. The interior is almost flawlessless original with unblemished 135 blue MB tex material making up the seats that blend superbly with the like new original dark blue carpets. The car retains its original Becker Europa radio along with its California creature comfort original option of the still perfectly functioning dealer installed Frigiking air conditioning system. Even the wood on the dash is original and lacking the expected tarnish brought on by time. Importantly, the light patina matches throughout each arena of the car, from engine bay to paint to interior…nothing is out of place and nothing says anything but long term enthusiastic care.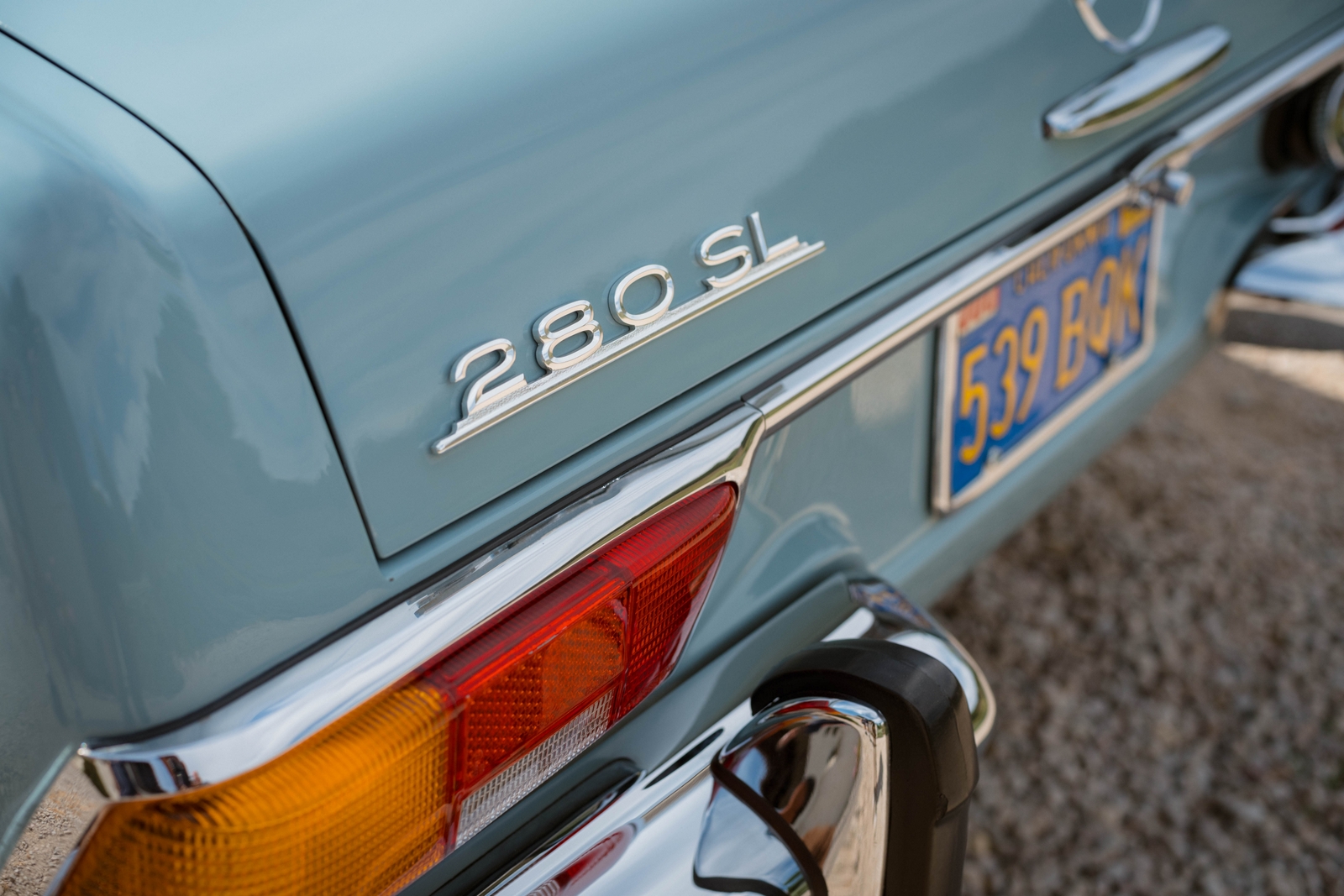 Mechanically, the car drives as well onto a leisurely concours green as it performs on the highway. The attention paid to the car in recent years by its most recent caretaker ensures the future use of the car will be experienced with hassle free enjoyment. The engine bay is thoroughly original with only hoses and other less robust items having been replaced over the years due to general maintenance considerations. The undercarriage of the car is further evidence of a life well-lived still retaining the original undercoating varnish applied at the factory and displaying zero signs of corrosion at any point in its life.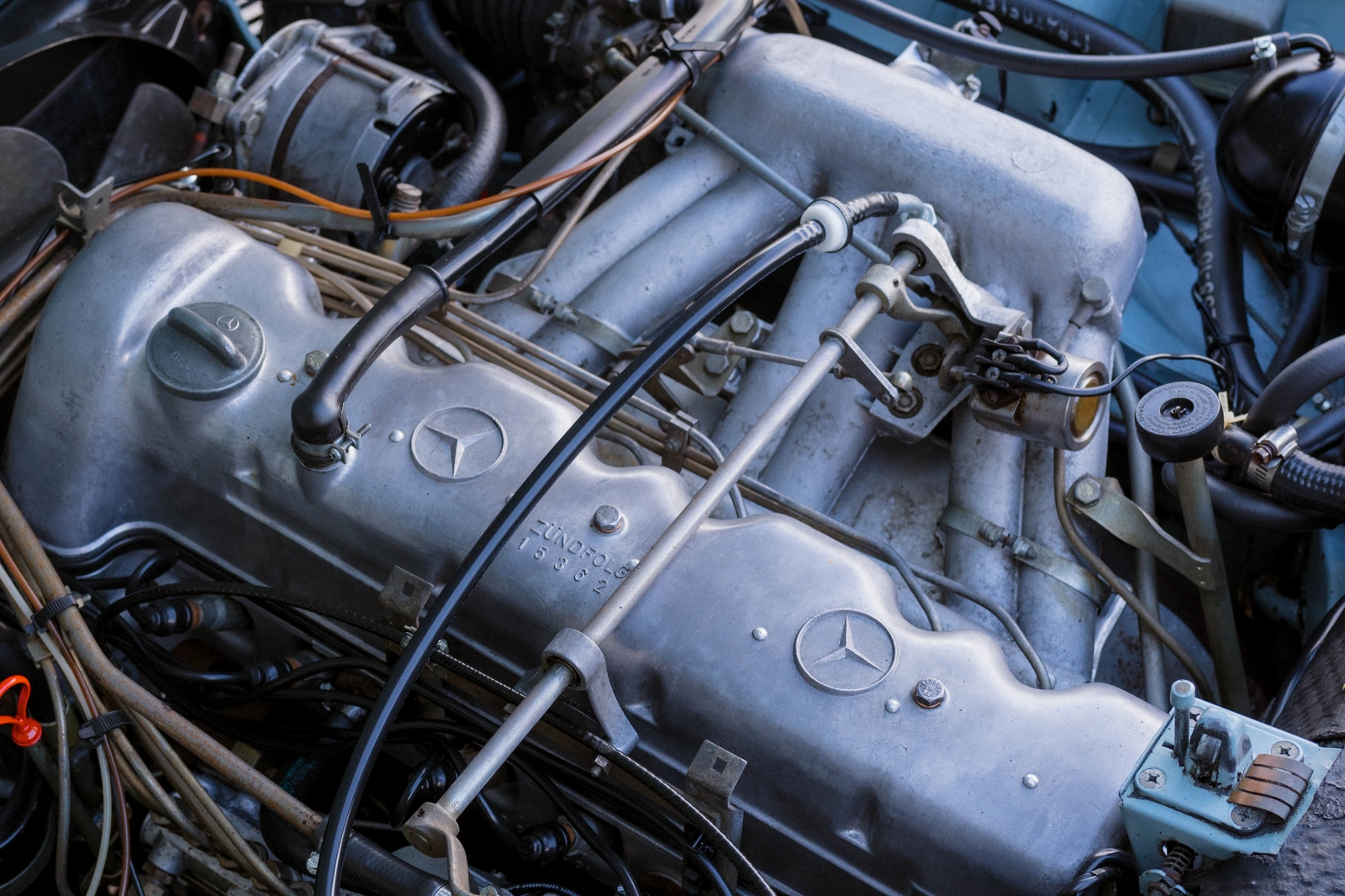 With only 52,680 miles and a lifetime of care in its wake, this beautiful and all original 280SL Mercedes is primed for another 50 years of care and enjoyment. A rare opportunity to own a car that has led the most charmed of lives.
Sold