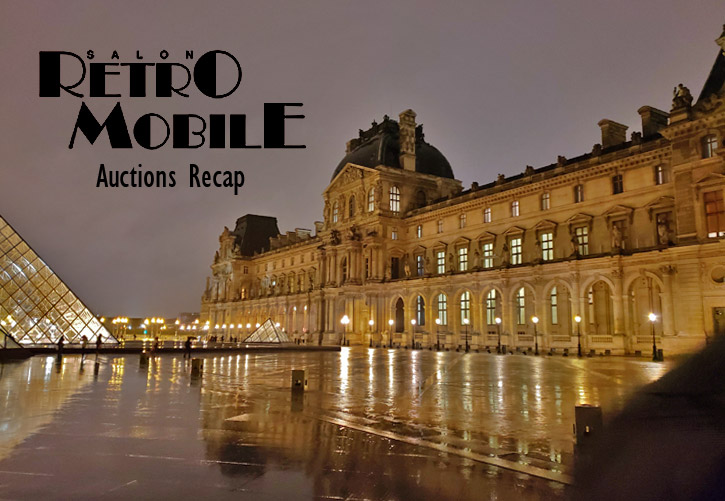 NOTE: all prices below include buyers premium
The annual collector car auctions in Paris presented a mixed picture although the general atmosphere at the Retromobile show was upbeat and of course, frantically busy! As always, see our recap analysis of the event and of course links to all the major auction house results and highlight cars below.

Dealers, manufacturers and exhibitors at the show were cautiously optimistic and many private transactions took place even during the first few days. We understand that at least 2 Mercedes Benz 300 SL 'Gullwings' sold quickly as well as a number of other cars on the private sales front. Some of the sentiment was upbeat for seasonal reasons with perhaps some of it related to 2018 being a difficult year for certain sectors of the market and perhaps some of it being in part to a fresh start in 2019. The number of visitors was very strong. Even the first evening, normally reserved for the media, was noticeably more crowded than in 2018 and 17.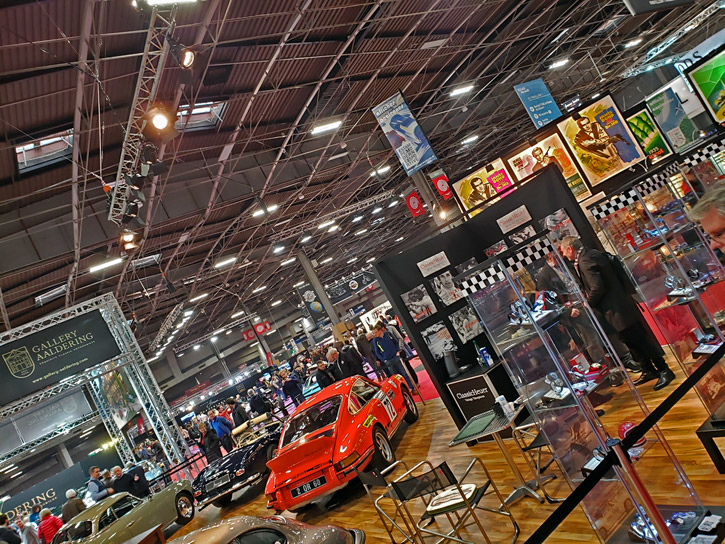 As far as the auctions are concerned RM Sotheby's started on Wednesday night and our impression was that things remain 'mixed'. In the absence of a roaring bull market this should be classified as the new 'normal'. Possibly a reflection of the quality of cars offered, which is always a factor at play. The F40 LM (€ 4.843 million) was guaranteed by the auction house (or if one can not write that 'may have been') and is not representative. Generally speaking lower reserves were the par for what was reached, except for a few modern cars such as the Bugatti 110 SS (€2.03m) and the 1989 560 SEC AMG 6.0 (€298k) which both exceeded their top estimates. At the same time an Enzo and two Bugatti Veryrons remained unsold. Having said that a few higher priced lots subsequently sold directly after the auction to our understanding.
For Bonhams on Thursday certain estimates were not achieved/exceeded, in other words many opportunities for bargains could be had for buyers! Examples: The 1950 Lancia Aurelia B50 Coupe by Vignale sold for €97,750 versus an estimate of €150,000 – 200,000, a 1955 Mercedes Benz 300 SL 'Gullwing' reached €1.208 million including commission compared to an estimate of €1.1m to 1.5m. Even more lots remained unsold compared to RM's offering including: a 300 SL roadster, Porsche 356 GS/GT Coupe, Mistral Spyder, or Ferrari 250 GT coupe. Bonhams was not without its high points which can be seen in the links section below, of note a 300SL Gullwing with a replacement (although aluminum) engine that sold for a very robust $1,350,000+ price.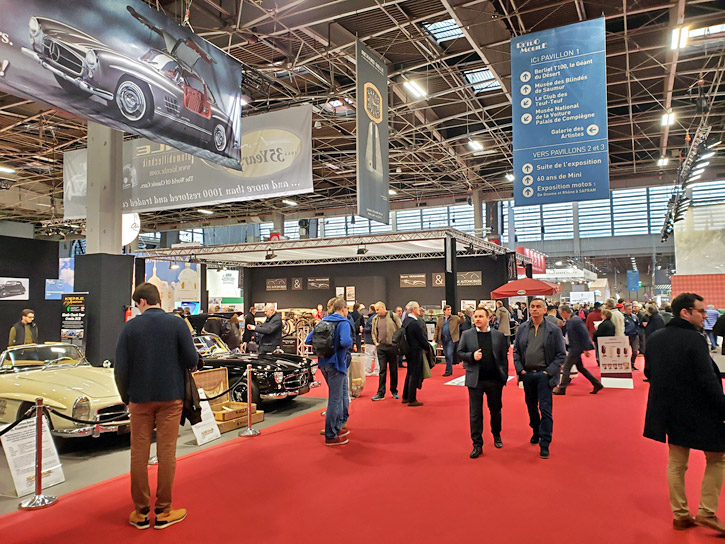 French auction house Artcurial with their signature auction of the year offered something for everyone including many unique, sometimes quirky European collectors cars, e.g. feature lots 1939 Alfa Romeo 8c 290 B Berlinetta which sold for €16.4 million as well as a 1966 barn find prototype Serenissima Spyder selling for €4.124m. Sell through rates seemed a little better than the other auction houses, a 2009 Mercedes/Benz SLR Mc Laren 'Stirling Moss' sold at its low estimate of €2.556m, a De Tomaso Panthera in Group 4 specs sold for €197.2k, exceeding its high estimate. Having said that, a BMW M1 from 1980 failed to sell at an apparent high bid of €380k, its estimate was €425k to 500k.
We will do more analysis in the coming days but all in all a wonderful event as always. There was a huge amount of networking going on with strong participation and attendees from 5 continents. Paris provides an unforgettable back ground and hopefully all who attended the festivities got to soak in a bit of the beauty of the city surrounding the event.
Note: all prices according to "Hammer Price"
SPECIAL THANK YOU TO OUR GOOD FRIEND DIETRICH HATLAPA of HAGI FOR HIS CONTRIBUTIONS TO THE ABOVE ANALYSIS DONE KINDLY AND EXCLUSIVELY FOR THE SCOTT GRUNDFOR COMPANY NEWSLETTER.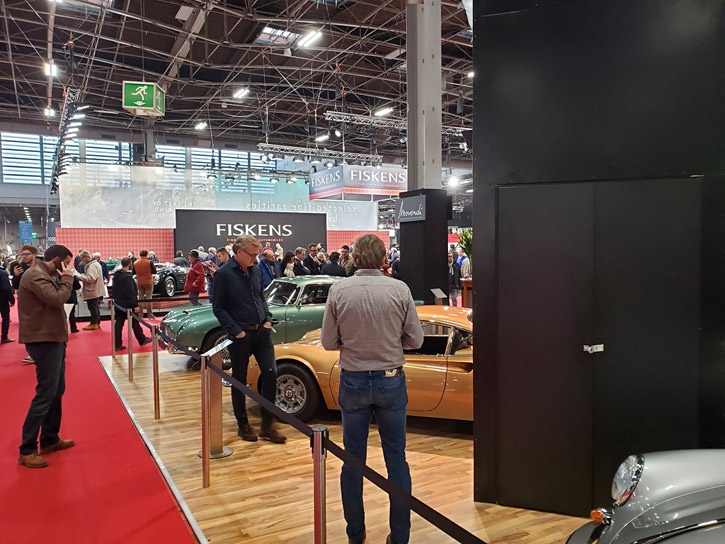 Paris Auctions – Full Lot Lists
---
Retromobile 2019 Featured Lots
---
---
RM Sotheby's
---
1987 Ferrari F40 LM
(

SOLD

– €4.842.500) | RM Sotheby's
---
1956 Porsche 550 RS Spyder by Wendler
(

SOLD

– €3.042.500) | RM Sotheby's
---
1966 Ferrari 275 GTB/6C Alloy Berlinetta by Scaglietti
(

SOLD

– €2.860.000) | RM Sotheby's
---
2018 Bugatti Chiron
(

SOLD

– €2.275.000) | RM Sotheby's
---
1996 Ferrari F50
(

SOLD

– €1.700.000) | RM Sotheby's
---
1994 Bugatti EB110 Super Sport
(

SOLD

– €2.030.000) | RM Sotheby's
---
1957 Mercedes-Benz 300 SL Roadster
(

SOLD

– €902.188) | RM Sotheby's
---
---
BONHAMS
---
1939 MERCEDES-BENZ 540 K CABRIOLET A
(

SOLD

– €1,581,250) | Bonhams
---
1928 BENTLEY 6½ LITRE FOUR LIGHT WEYMANN FABRIC SPORTS SALOON
(

SOLD

– €1,150,000) | Bonhams
1955 MERCEDES-BENZ 300 SL 'GULLWING' COUPÉ
(

SOLD

– €1,207,500) | Bonhams
---
ARTCURIAL // Motorcars
---
---
300SL Lots
---
---
Scott Grundfor Company has a wealth of experience and expertise in all facets of the classic car market, specializing in high-end collectibles and vintage Mercedes-Benz 300SL Gullwings and Roadsters.
Read about our Classic Car Collection Consultation Services or Contact Us for personalized expert advice.